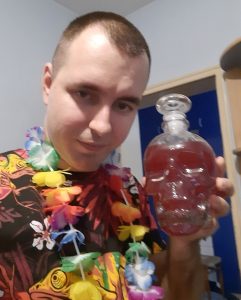 Greetings! I am Davor Todorović, schoolteacher. Here is my professional biography (from educational works, blog management, and experiences) for years:
– Dozens of our blog articles appear on the first page of Google! As for now, 77 articles https://tropicalislands.net/list-of-our-articles-that-appear-on-the-first-page-of-google-for-now/ appear on the first page in Google so far (proving the quality of blogposts I wrote). Currently, this blog has 354 posts, and over 7000 files inside! And that is only a small part of what I have here on my PC regarding islands, 273 folders, and 11564 files (images mostly, since 2018)

---
– I did the research for classes at my university (regarding this subject).
– Final (graduation) exam – Environmental Protection ,,Environmental awareness and its importance in water protection" thesis, where partially I wrote about tropical areas and islands.
– Master (graduation) exam – Physical Education ,,Games in the summer period with children of younger school age" thesis, partially about tropical islands as well.
– Methodology of scientific and professional research class – survey and statistics about environmental issues knowledge in our local region and tropical islands.
– Physical Education class  – ,,Sports activities and recreation in tropical and subtropical islands in the Pacific" thesis for a research
– Geography – ,,Tropical islands and atolls in the Pacific and problems on them" big research project on about 255 pages.
---
– I am currently an administrator at a large Facebook group ,,Private Islands for Sale". This group https://www.facebook.com/groups/PrivateIslandsforSale currently has around 20,3 thousand members, and a lot of islands and beachfrtons for sale. The creator of the group, Mr. Alfredo F Ayme (professional real estate agent, Wall Street and Miami broker) recognized my knowledge, work, and efforts and promoted me.
---
– I constantly upgrade my knowledge with live communication with professionals in their region. I did several interviews with a few people (including some famous professionals from the group) here for this blog, and you can see them here https://tropicalislands.net/list-of-all-our-interviews/ and how people are satisfied with the blog and group, including my work. And not just that, a few private islands pages (including famous ones) shared my blog posts there. I had a zoom conversation with Alisha Patel from famous ,,Private Island Podcast", as she checked my work and decided to call me to speak about private islands https://tropicalislands.net/conversation-with-alisha-patel-from-private-island-podcast/
---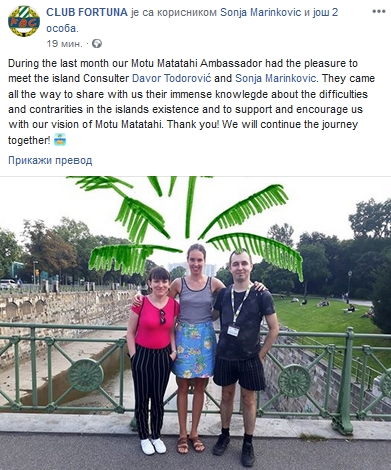 – I was ,,Island Consulter" for Club Fortuna as well. https://www.clubfortuna.net/motu-matatahi-island
Those girls made crowdfunding to buy collectively Motu Matatahi islet in French Polynesia, to raise awareness about environmental pollution in the oceans. Then I came in 2019. and gave them much information as I could and had at the moment, and tried to help out as I could from time to time.
---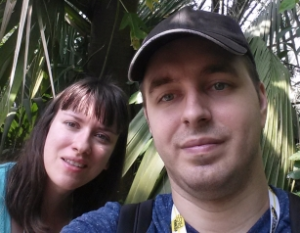 This lady here is Sonja Marinković. She is my fiance. She is a economist, and SEO specialist. She also has her blogs, and was working on many other blogs. She also worked SEO in a company and is helping me here with technical stuff on this blog.