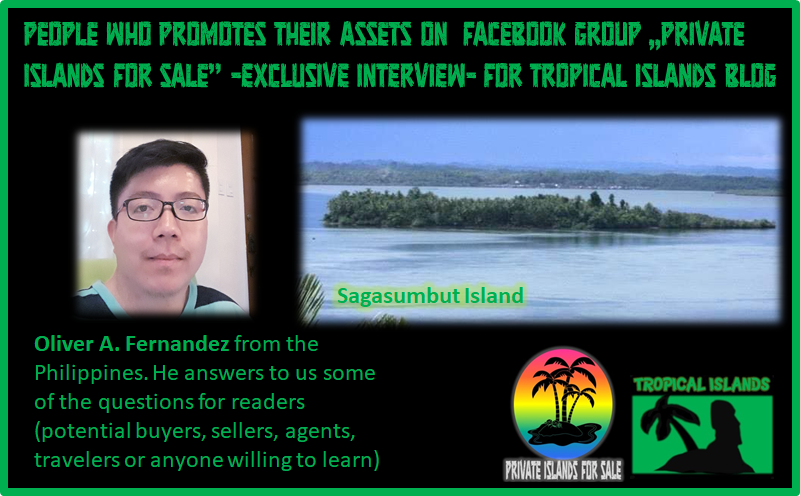 Hello people! This time around we got an interview with a family guy, who sells his family island in the Philippines. Oliver A. Fernandez is one of our first,,Exclusive Islands" people. He worked in Department of Health (DOH Philippines), and now, he was kind to answer those questions (I am regularly in communication with him). His answers are really detailed, I hope you will find a lot of information there!
NOTE: Those are all generic questions for various types of promoters (owners, sellers, agents, renters, realtors…), and various types of representation (renting, selling, sharing…) for various assets (islands, beachfronts, plots…). Have in mind that you can mention multiple assets as well.
QUESTION1: Can you tell us something about yourself and your relation to the asset you are representing?
ANSWER1: I'm a licensed nurse by profession and I help my family in managing our family business. The real property that i'm selling is a family-owned island by our family and it has been solely owned by our family up to the present. It has been in our family for three (3) generations now.
QUESTION2: What is an advantage (pros, positive points) of your asset and the region where it is located?
ANSWER2: Our family island is located between the two island of Leyte & Samar, in the Eastern Visayas Region of the Philippines. It can be seen by driving through the iconic and famous so-called Bridge of Love, "The San Juanico Bridge", which connects the two island of Leyte & Samar. Our island is under the jurisdiction of the City of Tacloban, which can be convenient because one can both have the privacy when you want peace and solitude, and at the same time, be able to enjoy the amenities like Shopping Centre, Grocery Store, Gas Station, and many more in a couple of minutes only by traveling through a private vehicle. You can reach our island by traveling through a local pump-boat in two ways. One is by traveling from the main sea-port area (travel time will be about 30 to 40 minutes), or you can drive to a small local area within the northern portion of Tacloban City (called Barangay Kawayan), and once you reach this Barangay Kawayan, crossing the water to our island will just be around 5 to 8 minutes.
QUESTION3: Can you tell us your opinion or prediction about the future of your asset and the future of the island market overall for this year or further?
ANSWER3: Our island has a very fertile soil and it has an elevated portion within the center of our island. Anything you plant will definitely grow and flourish. It is currently occupied to about 70% coconut trees, and the remaining part is composed different fruit bearing trees like banana trees, Soursop/graviola, guava trees and many more. It has a couple of mangroves too located in the eastern portion of the island. As time goes by, the value of our property will just be more valuable, not just because of the market value of the property, but also because business-wise, if one has enough capital, one can invest and develop this virgin-island into a money-earning island.
QUESTION4: What is your opinion about ,,Private Islands for Sale" facebook group and ,,Tropical Islands" blog so far?
ANSWER4: The FB group and Blog have been very helpful in advertising and at the same, very much informative to the end-user of such information needed for the various island not just within my country, but also those different islands around the world too.
QUESTION5: And last, can you tell us your opinions about climate changes on environmental impacts globally or in your region of interest?
ANSWER5: In my opinion, climate change is already here. It is inevitable. Fortunately, our island did not suffer so much due to the natural calamities like typhoon or earthquake which is a common natural phenomenon in my country. Truth to be told, my city of Tacloban had gone through alot of sufferings back in 2013 during the onslaught of SuperTyphoon Haiyan. Me and my family are a tiny part of the survivors of a massive natural catastrophe that happen during that time, and we lived to tell the tale of how it happen, what we had to go through at the time, and how we were able to overcome this nightmare of event. How I wish that we could turn back time, and maybe, just maybe save more lives of our loved-ones. But alas, it is not meant to be. Time is the most expensive commodity and you can never turn back time. Our past sufferings teaches us lessons that we will never forget, in order for us to appreciate what we have now. Not just the material things, but the people we have loved and lost during those times. What will remain, are the fond memories that we have of them that we can take with us, wherever we will be.
That is it people. It was very informative. Here are some links:
Sagasumbut Island post here: https://tropicalislands.net/sagasumbut-island/
Private Islands for Sale group: https://www.facebook.com/groups/397576527331853
Oliver A. Fernandez Facebook profile: https://www.facebook.com/oliver.a.fernandez.5