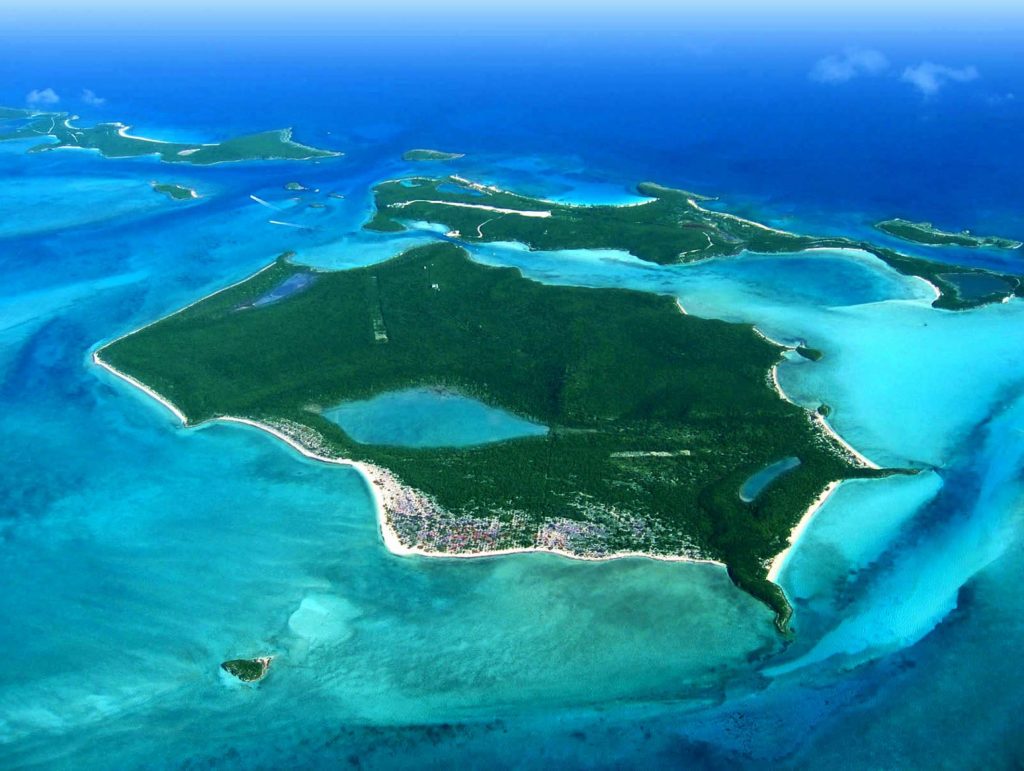 Rare islands have castles on them. Even fewer on private islands. One of them is Big Darby Island. This island is interesting according to the legend of the "Nazi Castle". Darby Islands are 5 islands in Exuma Cays (Little Darby, Big Darby, Goat Cay, Guana Cay, and Bette Cay). Interestingly, unlike typical islands in the Bahamas which have a lot of white beaches, palm trees, typical relief, here in addition we can see a lot of caves. James Bond film "Thunderball" was shot here in the regions. Also, many celebrities own private islands in the Bahamas such as Tyler Perry, Nicolas Cage, David Copperfield, Eddie Murphy, Shakira …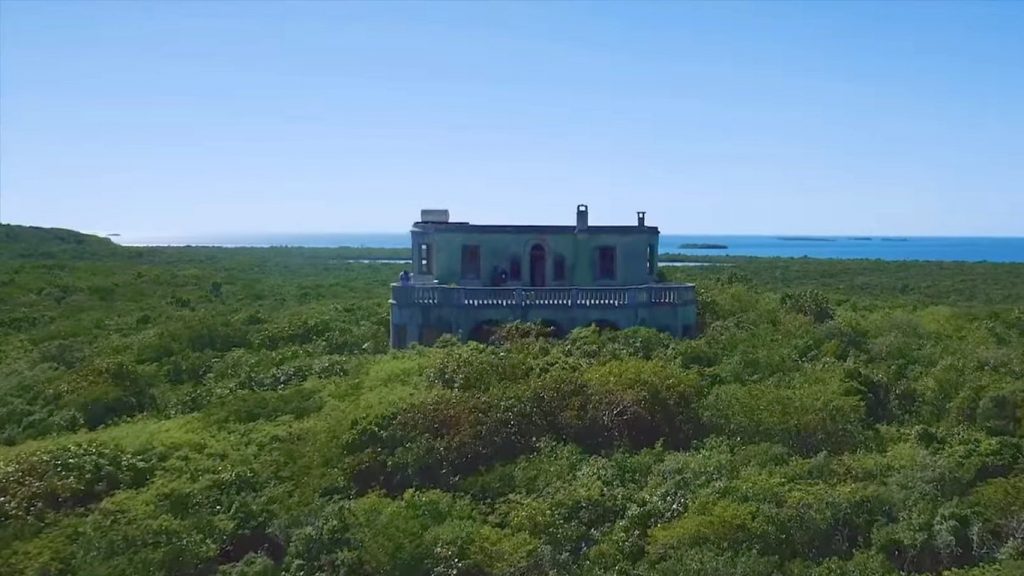 Big Darby Island is an island of 550 acres (222ha). Its length / width is 2.3kmX1.3km. The island has very lush vegetation, smaller lagoons, white beaches. The island has as many as 14 beaches, some of which are over a kilometer long! Big Darby even has an old castle ruin, and a couple more smaller buildings, roads, a dock for boats and an ingrown runway for airplanes. Big Darby used to be a plantation of cattle, palm oil, cotton and fruit. Its highest height is about 25m, which from this height, especially on the castle, provides a 360-degree view. About 5 kilometers north of the Darby Islands is Musha Caye, owned by David Copperfield.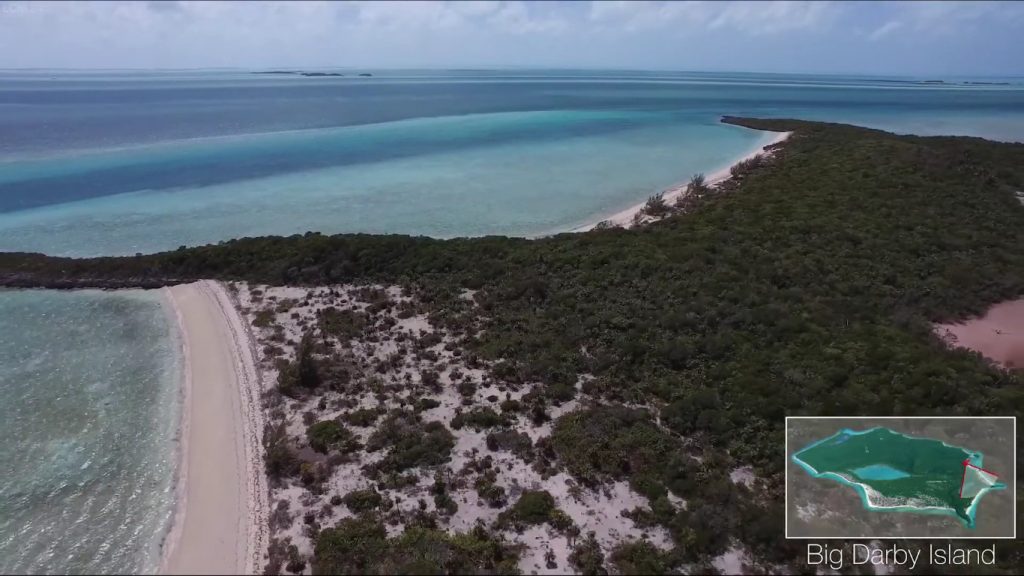 Of course, legends about the Nazis on that island are circulating on the Internet. In fact, in 1938 the castle was built by the Englishman Sir Baxter, who was a fan of the Nazis. During World War II, people often saw "flashing" lights from the castle late at night, which Baxter was supposed to use to navigate German submarines. And supposedly there was a radio room in that castle, for communication. Now, this castle is neglected, but it is good to renovate (who has the money for it) because it is already popular, and has a history, and it looks good.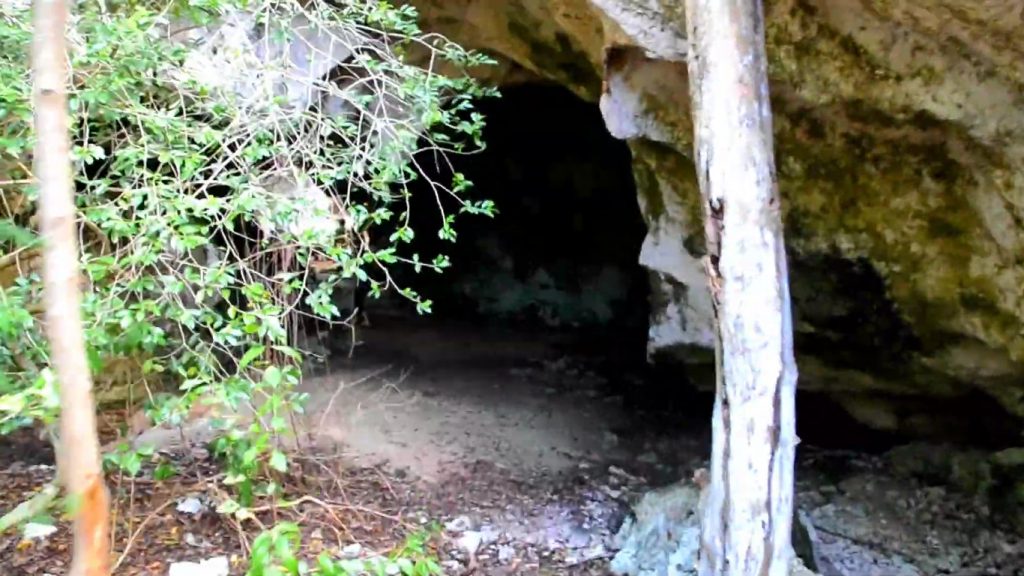 Here is a video showing the island. Video is provided by Alfredo F Ayme, a professional business consulter and real estate broker I talked to on facebook some time. He appears to sell that island as well, and knows the current owner.
POST UPDATE: 27. February 2022.
It is also worth mentioning that Big Darby island is very suitable for Halloween season since it has ,,haunted Nazi castle" which is also famous for. People can spend time there during Halloween or open tours for income potential. Or once repaired, this castle can be used as a historical-touristic place to visit, since it is really part of history. There even some old submarine could be put in cave to mimic submarines from that time. Yes, this island has really various potentials!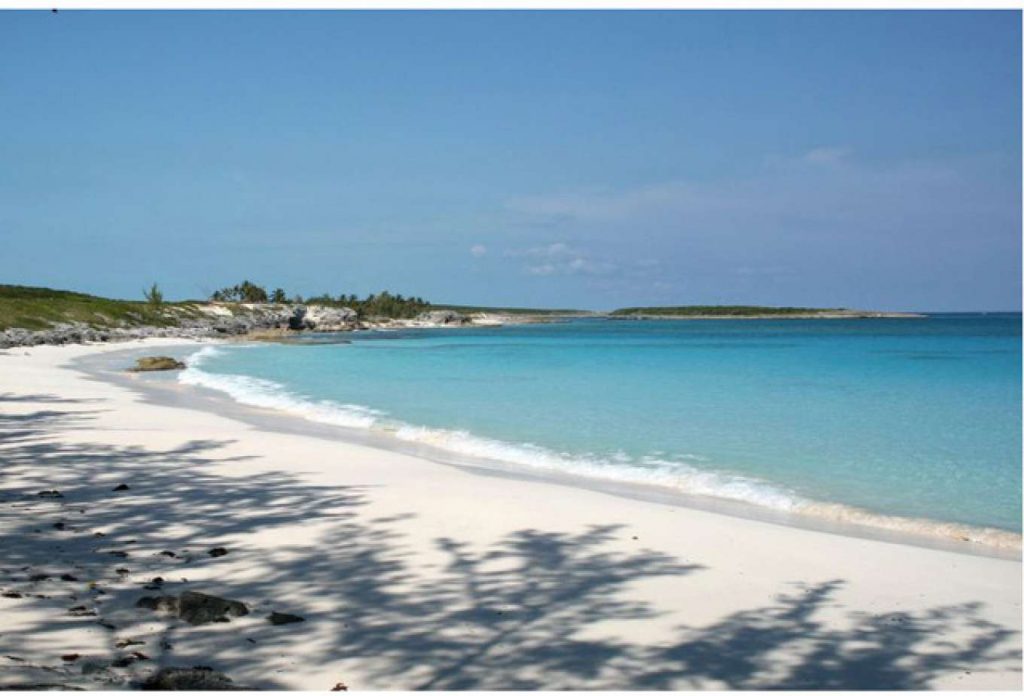 Mr. Alfredo promotes this island in famous Facebook group ,,Private Islands for Sale" https://www.facebook.com/groups/PrivateIslandsforSale where I am the administrator. He is the founder of that group and administrator. He is also an owner representative of this island (and the only one seller/agent who is directly in touch with owners since they are his friends). And logically, it will be here (as I am a staff member there), as this blog promotes anything like this for free of course.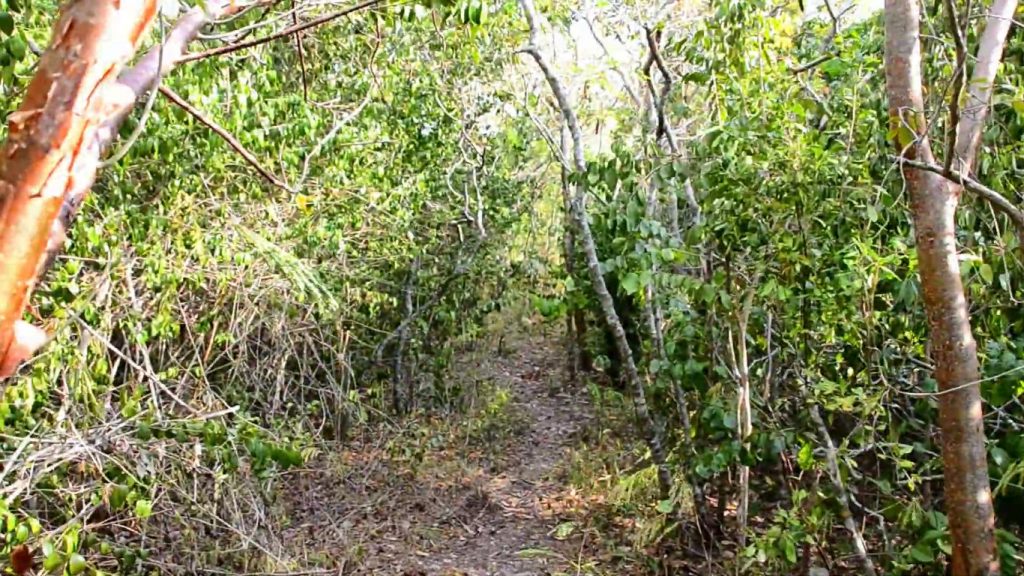 ---
POST UPDATE: 20. February 2023.
Mr. Alfredo F Ayme just provided me with large detailed text about this island, so we can have unique information on this blog post. Here is what he wrote:

>> My client whom is also a dear friend owns a set of islands on The Exuma chain of islands in The Eastern Bahamas called "The Darby Islands" also known as "The Darby Cays" (Darby and Little Darby). Located just 296 miles from Miami. Some years back (2004) the owner sold one of the islands to Faith Hill and Tim McGraw the famous power couple and country singers after they filmed their music video (That's Why God Made Mexico) on one of the islands and fell in love with it. Here is the link to the music video for your viewing pleasure.
http://www.youtube.com/watch?v=UA15t4XBpnA
Also attached (Link below) is a drone video the owner had made which really showcases the size and depth of the island. The island has a vast history and even has an old castle which was built way back in circa 1930, it's in the McGraw music video above. The island also has a two landing strips which the owner uses to land right on the island when he travels. If not you can always fly commercial into Great Exuma International Airport (GGT) and after clearing customs you can take a short boat ride into the island.
http://www.lcm247.com/darby-island
The biggest of the island set is called Darby. It is 554 acres and currently for sale. Maybe you know the area, it is undeveloped and just breathtaking. It has unarguably the most beautiful waters in all the world. It has over two miles (Approx. 21,650 sq. ft.) of ocean frontage, 14 beaches, pink sandbars, a deep water harbor, an exotic network of caves and coves, beautiful elevations (87 ft.) and surrounded by celebrities and industry moguls in the immediate area. David Copperfield as you may know owns Musha Cay (See link below) and Johnny Depp is also in the area and of course the McGraw's plus others. The islands protected deep water harbor right off of The Bahama Sound, has a 100 ft. dock accommodating over 100 ft. yachts.
http://www.mushacay.com/#/home
Back in 2004 as previously mentioned, my client sold one of his islands to the McGraw's which they have since developed and it has been featured in the June 2017 issue of Architectural Digest as one of the most stunning private island homes ever. Here it is (Link below) for your perusal.
http://www.architecturaldigest.com/story/faith-hill-tim-mcgraw-bahamas-home
We do believe this is one of the only or few private and undeveloped islands left of it's size in the area and it is currently for sale. There are endless possibilities with this property. He has different sets of plans if the new owner would like to develop it. I can get the principal owner on the phone anytime if you thought there might be some serious interest. They own it out right, they have the king's grant (Deed) to the islands and have already made the sale to the McGraw's flawlessly of course. They use the top law firm in Freeport as their counsel.
Here is some valuation information of relevant islands which you may find helpful during your review (More comparable information is available).
Darby Island is considerably larger (554 acres) than most private Islands in The Bahamas or even the Caribbean. Three recent sales of large Islands to the south of Darby were purchased by Donna Bertarelli and her brother Ernesto Bertarelli. Children's Bay, previously owned by (JNJ) The Johnson & Johnson Corporation, Williams Island and Lee Stocking Island all sold for $140,000 per acre or more. Leaf Cay considerably smaller than the above mentioned Islands and to the north of Darby sold for $320,000 per acre. Obviously large tracks of land tend to sell at a discount per acre to the smaller sized.
Darby is priced at about $90,000 per acre making the purchase price somewhere in the vicinity of $50,000,000.00. We have done a valuation (Comparable if you will) report going back 15 to 20 years till now of all sales, and listed islands in the immediate and not so immediate area with independently verifiable sources and Darby is priced well below average. The island is priced to sell.
Other Islands in the area, also referred to as "Billionaires Row" are Musha Cay, owned by David Copperfield, Sampson Cay, owned by John Malone of Liberty Media and Sirius Satellite Radio, Bock Cay, owned by the Fry family (Fry's Electronics) Bell Island, owned by the Aga Khan (Paid $100,000,000), White Cay Bay, owned by Tyler Perry. Other owners in the area include Johnny Depp, William Cook, Lord Sandy MacTaggart and many other business magnates and industry moguls.
The Bahamas are considered the safest and most stable real estate in the Caribbean. They are a member of the Commonwealth. They tied their currency to the US dollar and dollars are equal and accepted as Bahamian currency. The ilk and quality of people, such as those mentioned above, and resorts like Atlantis and Sandals speak volumes about the stability and ease of property transfer not to mention easy logistics. This makes The Bahamas a top foreign real estate investment.
Darby was originally granted to Sir Baxter by King George. This was done in the early 1930's when all Exuma was crown land (Owned by Government). It became the largest employer, as a plantation in the 100 mile chain. Sir Baxter could have claimed any Island in the whole chain and picked Darby. It's obviously the most beautiful island and has the most to offer in the entire archipelago chain of islands.
I hope this information has been both informative and helpful. I want to once again thank you for your time and interest. Please do not hesitate to contact me should you be left with any questions or would like to discuss further.
***As a recent update, in June of 2021, the island mentioned above, owned by famous country singers and power couple Faith Hill and Tim McGraw was sold. This was a private sale and has not been disclosed nor announced. They were asking $35,000,000.00 and it is safe to assume they got their asking price or very close to it. This would make it the largest sale in the area in terms of price per acre (20 acres x $1,750,000.00) in recent years or possibly ever. This island is within a quarter mile distance of Darby and was sold by my client to the McGraws back in 2004.
This sale, in terms of valuation alone, not including all that the island has to offer, would make Darby island an outstanding acquirement and investment.
I can be reached anytime for serious inquiries at (305) 586-5656. All the best. <<
---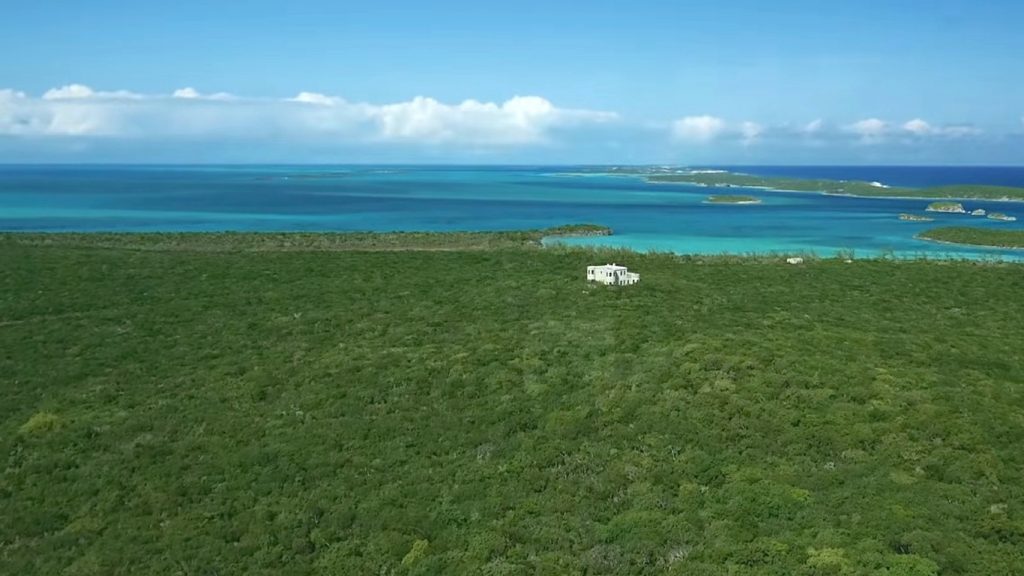 >>HERE IS OUR BIG DARBY ISLAND GALLERY (over 40 pictures) https://tropicalislands.net/big-darby-island-gallery/ <<