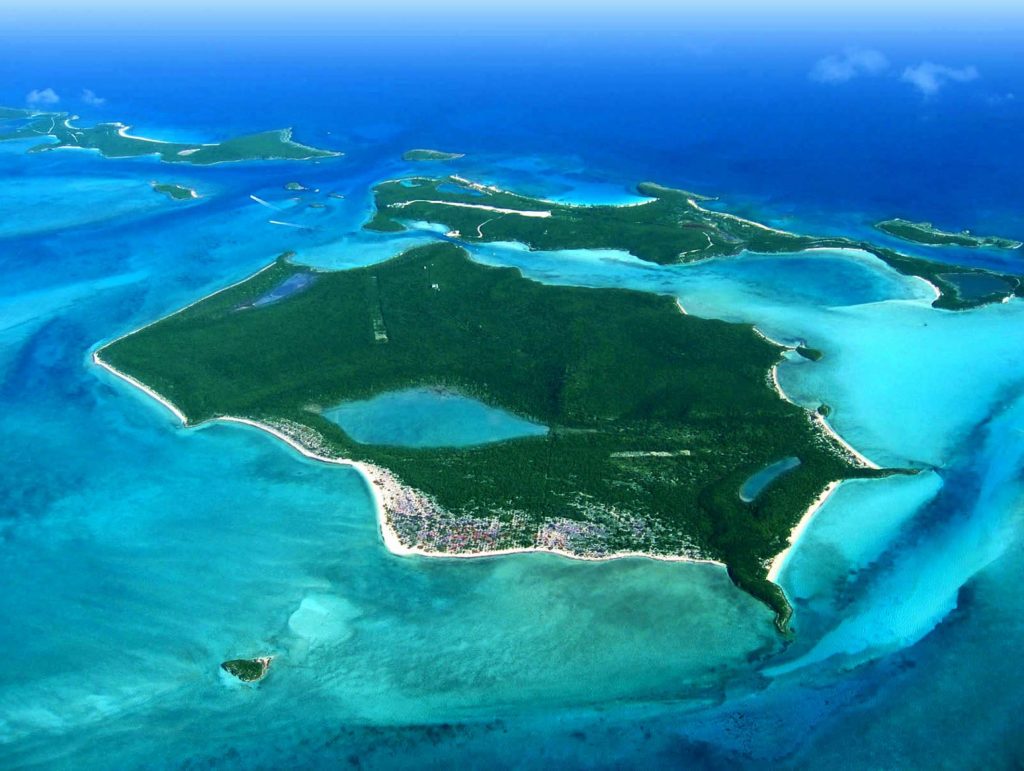 Rare islands have castles on them. Even fewer on private islands. One of them is Big Darby Island. This island is interesting according to the legend of the "Nazi Castle". Darby Islands are 5 islands in Exuma Cays (Little Darby, Big Darby, Goat Cay, Guana Cay, and Bette Cay). Interestingly, unlike typical islands in the Bahamas which have a lot of white beaches, palm trees, typical relief, here in addition we can see a lot of caves. James Bond film "Thunderball" was shot here in the regions. Also, many celebrities own private islands in the Bahamas such as Tyler Perry, Nicolas Cage, David Copperfield, Eddie Murphy, Shakira …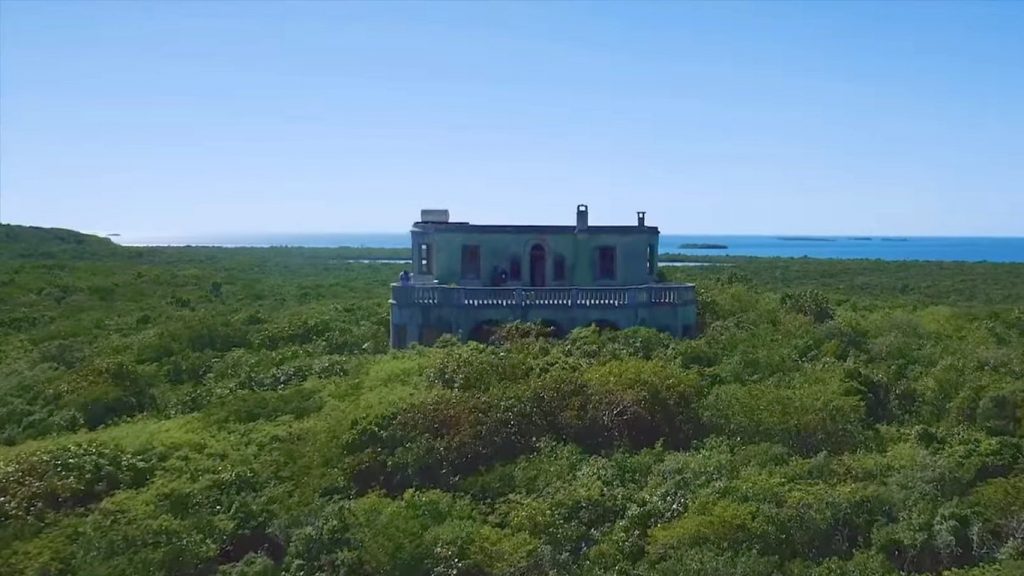 Big Darby Island is an island of 550 acres (222ha). Its length / width is 2.3kmX1.3km. The island has very lush vegetation, smaller lagoons, white beaches. The island has as many as 14 beaches, some of which are over a kilometer long! Big Darby even has an old castle ruin, and a couple more smaller buildings, roads, a dock for boats and an ingrown runway for airplanes. Big Darby used to be a plantation of cattle, palm oil, cotton and fruit. Its highest height is about 25m, which from this height, especially on the castle, provides a 360-degree view. About 5 kilometers north of the Darby Islands is Musha Caye, owned by David Copperfield.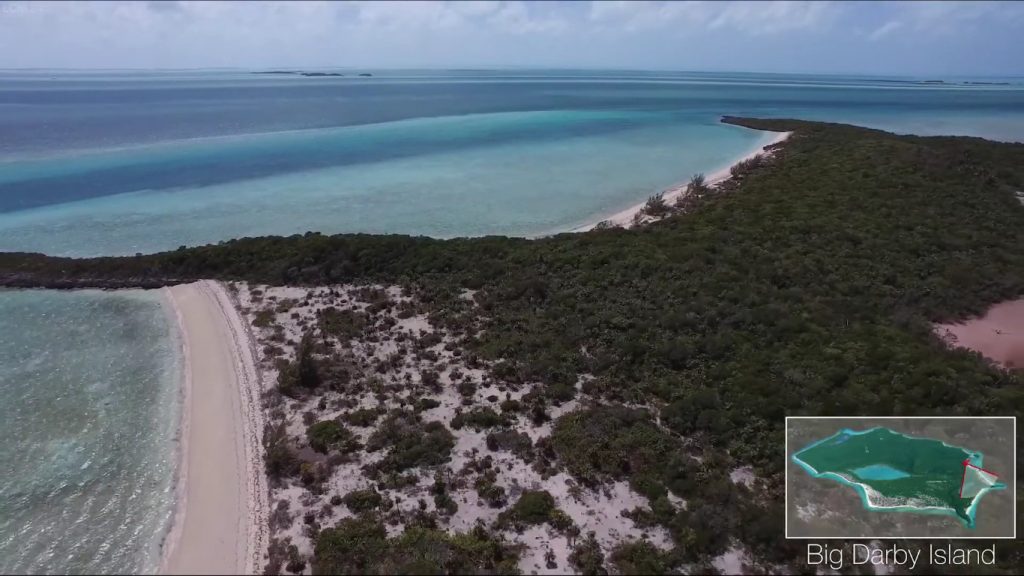 Of course, legends about the Nazis on that island are circulating on the Internet. In fact, in 1938 the castle was built by the Englishman Sir Baxter, who was a fan of the Nazis. During World War II, people often saw "flashing" lights from the castle late at night, which Baxter was supposed to use to navigate German submarines. And supposedly there was a radio room in that castle, for communication. Now, this castle is neglected, but it is good to renovate (who has the money for it) because it is already popular, and has a history, and it looks good.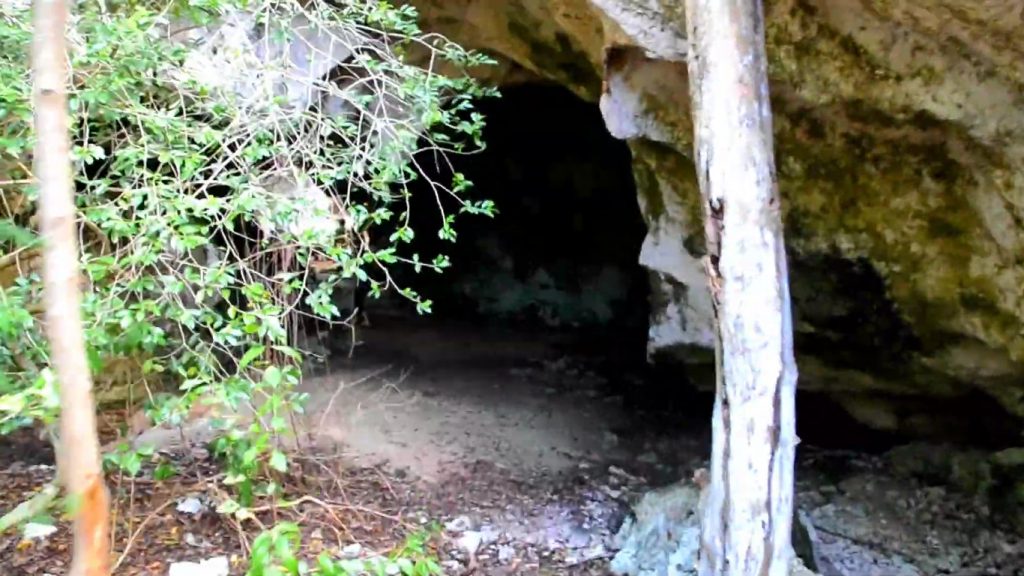 Here is video showing the island. Video is provided by Alfredo F Ayme, professional business consulter and real estate broker I talked to on facebook some time. He appears to sell that island as well, and knows current owner.
POST UPDATE: 27. February 2022.
It is also worth mentioning that Big Darby island is very suitable for Halloween season since it has ,,haunted Nazi castle" which is also famous for. People can spend time there during Halloween or open tours for income potential. Or once repaired, this castle can be used as a historical-touristic place to visit, since it is really part of history. There even some old submarine could be put in cave to mimic submarines from that time. Yes, this island has really various potentials!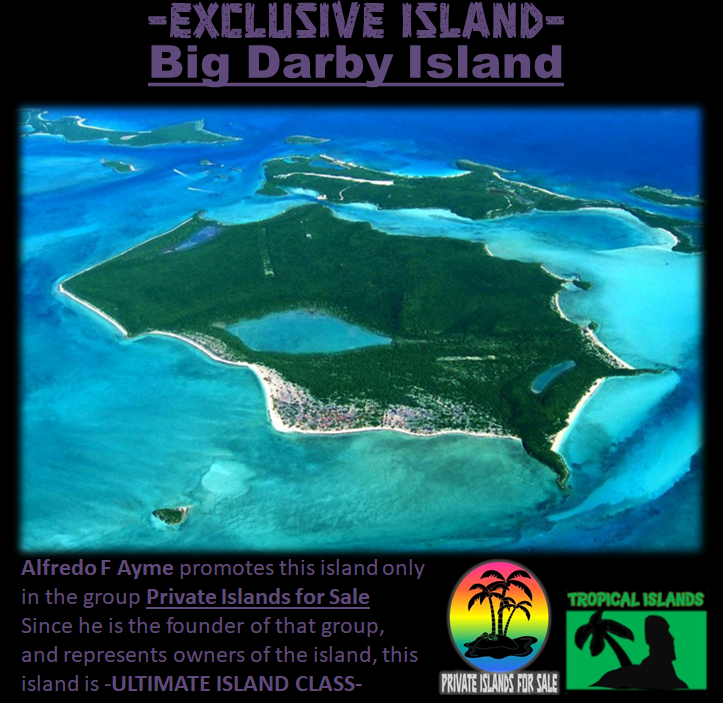 Mr. Alfredo promotes this island in famous Facebook group ,,Private Islands for Sale". He is the founder of that group and administrator. He is also an owner representative of this island (and the only one seller/agent who is directly in touch with owners since they are his friends), and this island will become not just Exclusive Island here, but also a unique Ultimate Class Island! And logically, it will be here (I am a moderator there), as this blog promotes anything like this for free of course.
>>HERE IS OUR BIG DARBY ISLAND GALLERY (over 40 pictures) https://tropicalislands.net/big-darby-island-gallery/ <<