As if there are not enough threats to the environment around, a new type of it recently occurred. On May 20, a cargo ship from (The Singapore-registered X-Press Pearl) was set on fire, due to a nitric acid leak. It was burning for almost two weeks causing serious environmental disaster! The X-Press Pearl was carrying 1 486 containers, 25 tonnes of highly corrosive acid. It sunk on 2 June (off the coast of Colombo, Sri Lanka) into deeper waters. This incident was noted as the worst marine ecological disaster in Sri Lankan history for the chemicals that spilled.
On 11 May the crew had discovered that one container was leaking nitric acid. They requested both Hamad and Hazira ports to allow it to be offloaded, but permission was not granted. According to X-Press Feeders (they operated ship), the requests were denied as "there were no specialist facilities or expertise immediately available to deal with the leaking acid". Then ship proceeded on its planned journey to Colombo.
When ship reached Colombo on the night of 19 May and was awaiting slot to anchor they did not declare an emergency for the cargo acid leak. Later, they just requested a re-working of the container. Harbour Master said as a maritime hub, it was ready to help. The ship's crew then noted its first report of a fire, which the crew had put out using its onboard system.
Then, on 20 May, around 17,5 kms northwest of the Colombo Port, it was reported that the ship caught fire. During the fire incident, the ship had a crew of 25 members on board. Sri Lanka Ports Authority and Navy boarded the ship in order to find out the cause of the fire. They suspected that the fire started because of the reaction of chemicals being transported on the ship.
ENVIRONMENTAL DAMAGE
The United Nations representative in Sri Lanka said that sinking of a container ship that caught fire while transporting chemicals has caused "significant damage to the planet" by releasing hazardous substances into the ecosystem. ,,An environmental emergency of this nature causes significant damage to the planet by the release of hazardous substances into the ecosystem" a UN representative said. A UN team of oil spill and chemical experts provided by the EU has been sent to Sri Lanka as well.
Plastic resin pellet pollution from spilled cargo was washing up on Sri Lanka's beaches from 27 May. Debris including tonnes of plastic pellets and burned fiberglass have already polluted nearby beaches. Tonnes of microplastic granules polluted beaches as well.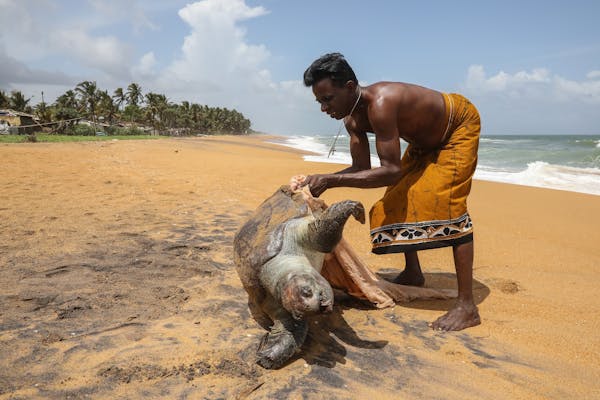 According to https://theconversation.com/could-sri-lankas-ship-fire-have-been-avoided-heres-what-we-can-learn-from-the-shocking-environmental-disaster-162770  hundreds of dead turtles and some dolphins and whales have washed ashore as the result of this disaster! Local communities which depend on fishing for their livelihoods have been ordered not to fish because of pollution.
HOW COMMON ARE SHIP FIRES?
According to data, container vessel fires occur frequently. Insurance companies estimated that ship fires at sea occur once in 60 days! Large containerization of maritime trade, larger ships, and wrongly declared dangerous goods are key factors contributing to the increase in ship fires. Logically, in bigger ships with large amounts of containers (just as this one), it is harder to detect the source of fire, often until it is too late. it is often that those ships carry goods worth millions. Those fires aboard container ships can cause higher costs for salvage efforts, big material damages, long delays of shipments, and disrupting supply chains relying on sea trade. And this is all just if we ignore the environment for a moment.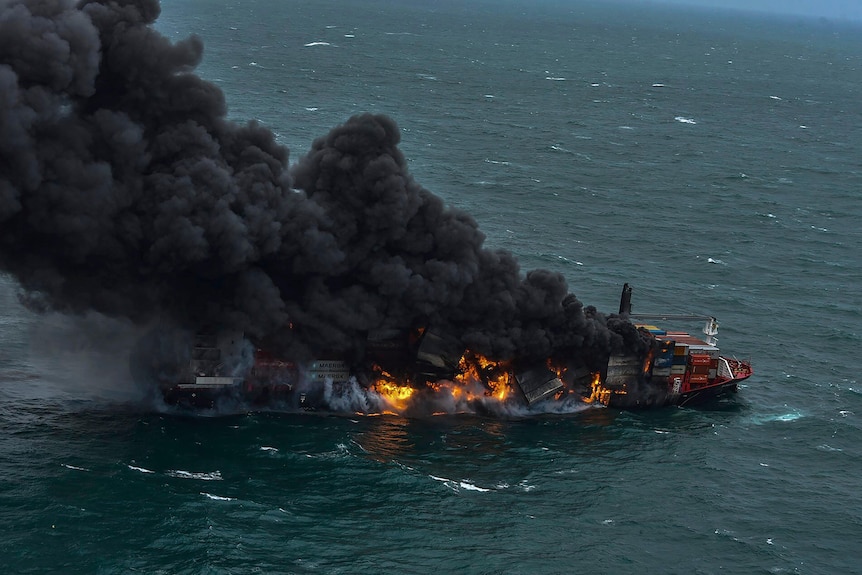 WHAT HAVE WE LEARNED FROM THIS?
Corporational greed at its finest! Those shipping companies and corporations, in order to compete themselves, resulted in the creation of larger ships with larger container ship sizes and larger capacities, so those ships can weigh more heavy cargo. What is worse, it is often that they are allowed to carry very dangerous cargo, and if something goes wrong, it is not just oil that spills, but also toxins and chemicals! This can lead to serious environmental pollution, hundreds of dead animals, tons of debris on beaches and at the end of oceans, burning ships for weeks (with dangerous smokes going to air as well)… And due to those reasons, immediate actions must be taken… until it is too late!