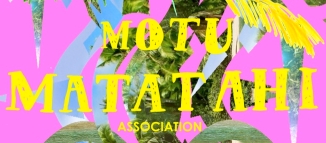 Club Fortuna https://www.clubfortuna.net which consisting of members (until recently) Julia Rublow, Xenia Lesniewski, Sarah Sternat, Kurdwin Ayub and Nana Mandl, a few years ago (more precisely back in 2016) came to idea to collectively purchase the island in order to send message to the world.
Those awesome girls and artists from Vienna founded the Matatahi Association, a group that, with some other members, aims to buy the Motu Matatahi Island (that is a small island in Rangiroa Atoll/French Polynesia, I will write about it soon).
It is an idea to draw attention to the protection of the environment, to the pollution of water and islands. The idea is for the island to be everyone's, everyone who donates, contributes to being partly the proud owner of the island. An island should not be used for anything other than to exist as an idea that something good can be done. They wanted to achieve that by creating a foundation, so everyone donated little by little who could be a collective sale. Of course, there was none of that, some money was collected but not enough.
They continued with the promotion, have videos on youtube and posts on Facebook. The island, meanwhile, was withdrawn from sale after a couple of years of waiting. I noticed that and contacted them, so they confirmed it with one of the sales agents, and then we communicated, I advised them something about islands, atolls, I found alternatives, etc … Last year, in August, we  saw each other in Vienna, we had a constructive conversation about this all, and they did not plan to stop with the project. The struggle to raise awareness and the environment continues.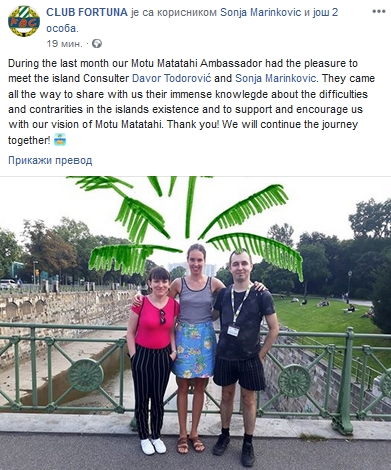 And here is link for Motu Matatahi Association, so you can read more and detailed about this https://www.clubfortuna.net/motu-matatahi-island
Here are famous videos about this all! There are two videos, one by Julia and another from Xenia: