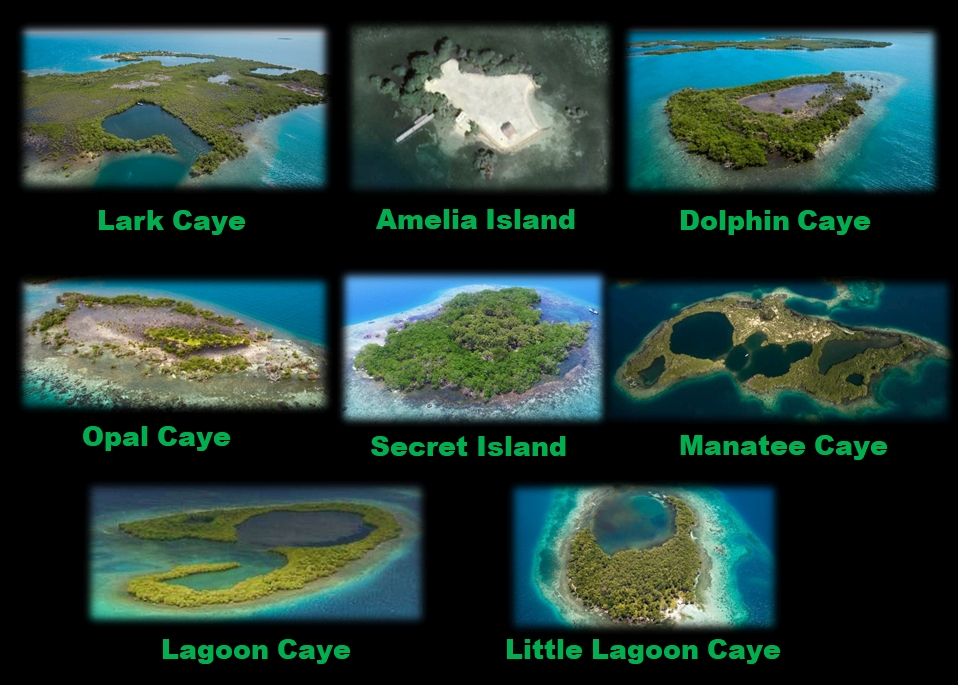 Hello. This time I will write about some of , the ,,old-forgotten aces" in Belize, private islands that were somewhat famous and popular back then and in the market for years before, and yet I have those albums here, and wanted to share with you to see (the nature condition) how they looked like in the original untouched shape. Caribbean waters! Many of those were covered in some articles back then years ago, and some are even still present on sale. But have in mind that some of them are sold and were (partially) cleaned, filled with sand, and somewhat developed, so they might look a bit different from the images in our albums. I will cover several islands here, and each should have its own gallery. Regarding galleries click on a picture and wait for a little until the gallery loads, then scroll left/right, and press Esc to exit, optionally you can press F11 for a bigger gallery. Have in mind that we write from an educational point and view and are not involved with the sale of islands.
---
Lark Caye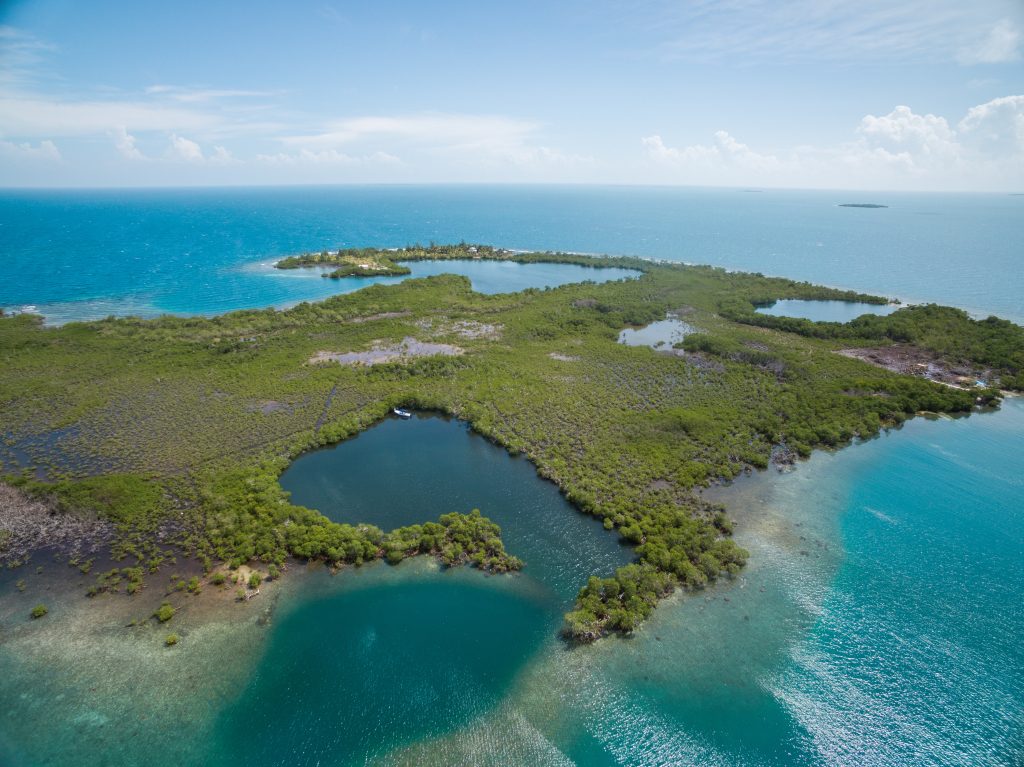 Lark Caye is an island in Belize. Its maximum length/width is around 1,85kmX690m. Lark Caye is located about 7,5km east of Placencia Village, a famous tourist destination and town in Belize, siting in a strategic location.  Settled in Caribbean water in Belize Barrier Reef, Lark Caye resembles of swamp type island surrounded by mangroves and many bays. The water is very high quality, and there is plenty of marine life there. It is still a popular private island destination and even now there are many plots on sale there. Some parts of it (mostly northern) are developed now, and there are white sandy beaches and coconut palms around as well, as good corals. It is the second island to know (after Motu Matatahi) and yet after all those years, I covered it in articles for some reason.
Here is Lark Caye Gallery (67 images)
---
Amelia Island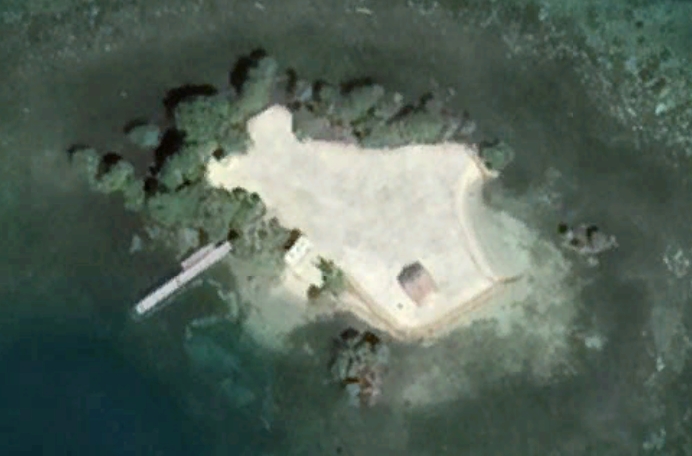 Amelia Island in Belize is a tiny island with a size of just about 0.4 acres (1618m2) with maximum length/width around 80mX60m (75m with jetty). That is a very small islet, around 760m south of Lark Caye and 400m from Doplhin Caye. Amelia Island was just barely some ground covered with mangroves, and recently, a few years ago, it was cleared and filled with sand, due to erosion. Now it is an islet featuring white sands and has mangroves strategically left to surround the islet mostly on the northern and western sides. There is also a jetty for landing boats on the southwest side. Shallow warm waters surround the islet. It costed about 180 000$ just so it added to its popularity as an affordable islet. The islet is also being sold as Ginny's Caye in this ,,cleaned" condition (as seen in the image above, it got filled with sand again, cleared and that thatch roof structure on its southwest side put).
Here is Amelia Island Gallery (18 pictures)
---
Dolphin Caye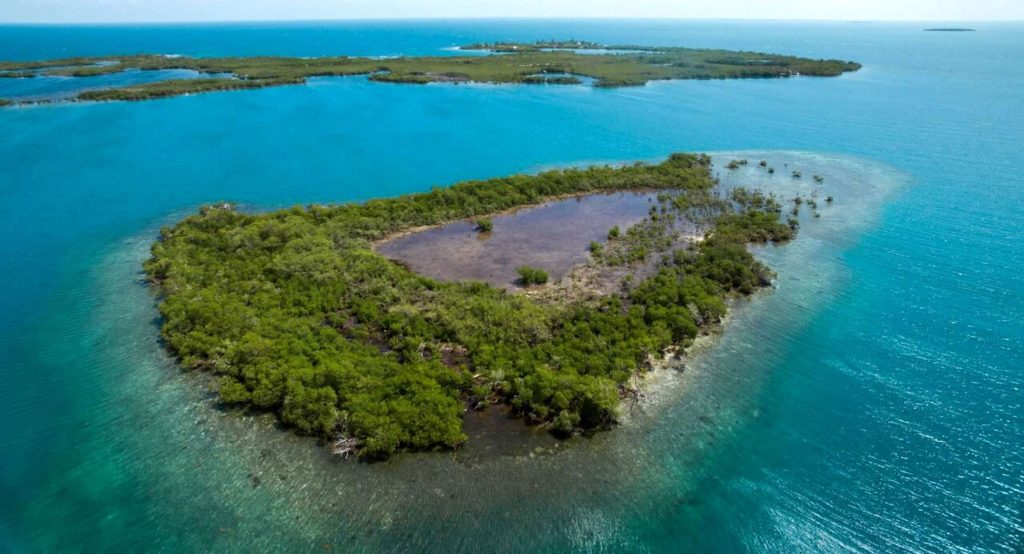 Dolphin Caye is the first Lark Caye's neighbor. It is located just 267m south of Lark Caye's shore, and is sitting in a strategic position as well due to close proximity to Placencia Village. It is literally between Lark Caye and Amelia Island. Its size is 4,4 acres (1,8ha) and its maximum length/width is around 210mX145m. Dolphin Caye has its own inner lagoon in the middle stretching to the west side of the island resembling swamp, while the western part is more solid, and steady. That central part is very useful as its water is protected by mangroves, and the island features shallow waters in the part. There are many mangroves covering the island. Dolphin Caye got sold meanwhile, and it got cleared to the northwest part, filled with sand and some construction took place. And they took advantage of that swamp by enhancing the lagoon to make a safe channel there for boats.
Here is Dolphin Caye Gallery (17 images)
---
Opal Caye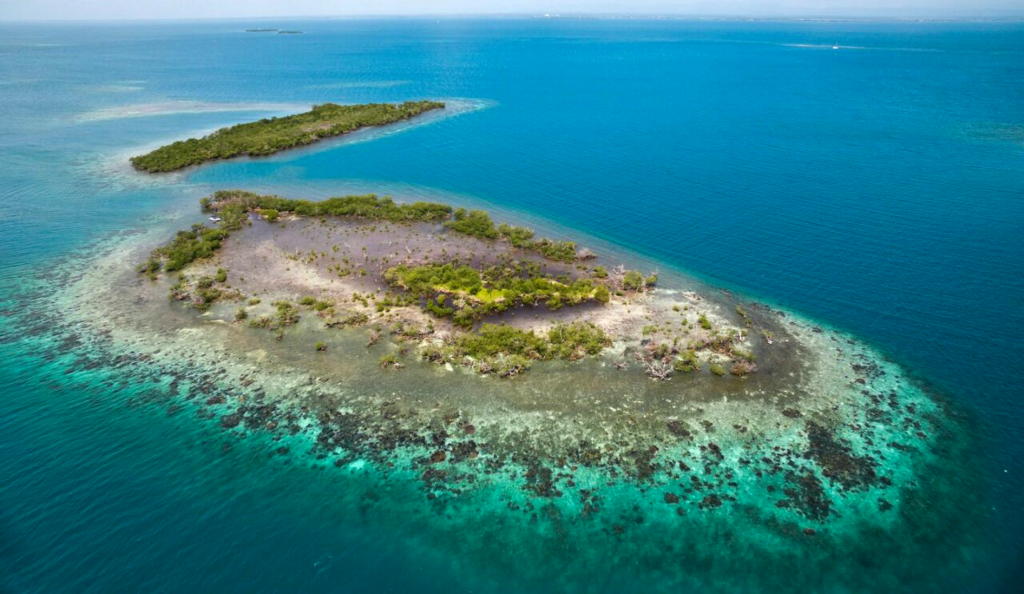 Opal Caye is an island located about 1,7km south of Lark Caye surrounded by other small islands as well. Opal Caye is 5 acres (2ha) in size, and its maximum length/width is around 290mX150m. The island stretches from northeast to southwest side and is specific that it is mostly a swamp-type island is partially submerged in very shallow water (many mangroves come out of its waters). But in some parts, it is surrounded by solid ground and dense mangroves. That has some advantages, however, as its waters are protected very well there on the island and has possibilities for lagoon and water adapting depending on someone's needs. At the edges of the island, it is surrounded by its own reef with various shades of blue. This island is perhaps still on sale.
---
Secret Island (Belize)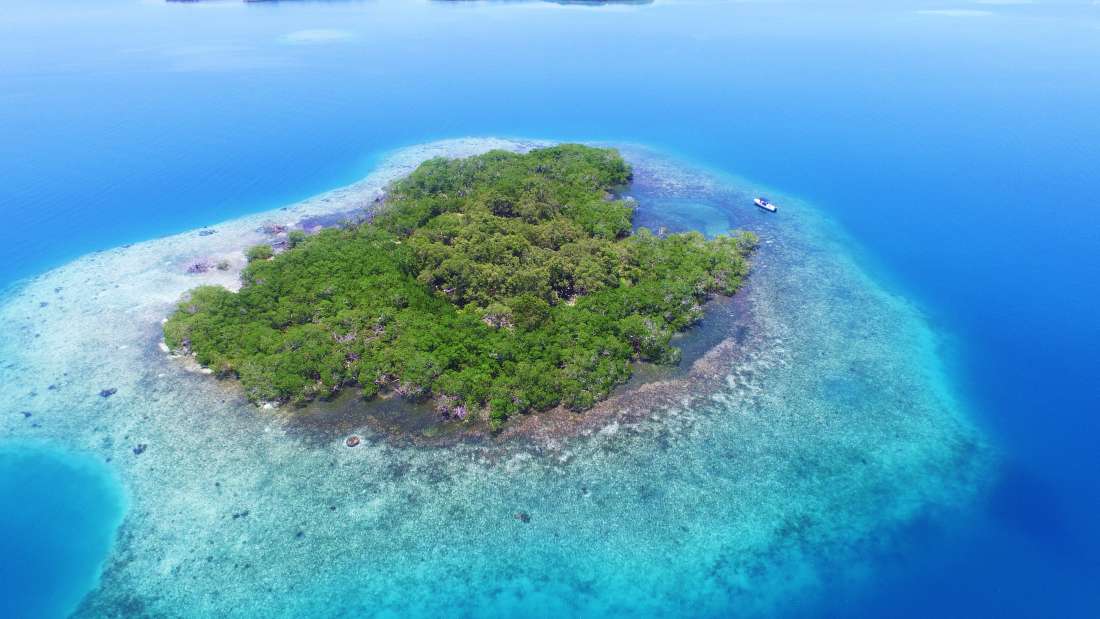 Secret Island is an island in Belize. Its size is about 1 acre (4046m2), and its maximum length/width is about 130mX120m. Secret Island is around 11,8 km west of Belize mainland's shore. It is surrounded by many islands and reefs around, some developed, some not. Some of the islands around include Fisherman Caye, Manatee Caye, Lagoon Caye etc… Secret island is almost round in shape with some bay/entrance at the southeast side. It is surrounded by mangroves, and on the island there are a combination of trees and grass, dense vegetation that provides good shade when needed. Secret Island sits on its own small reef providing shallow warm water. I like that island. It is sold meanwhile, and some sand filling took in the process.
Here is Secret Island Gallery (22 images)
---
Manatee Caye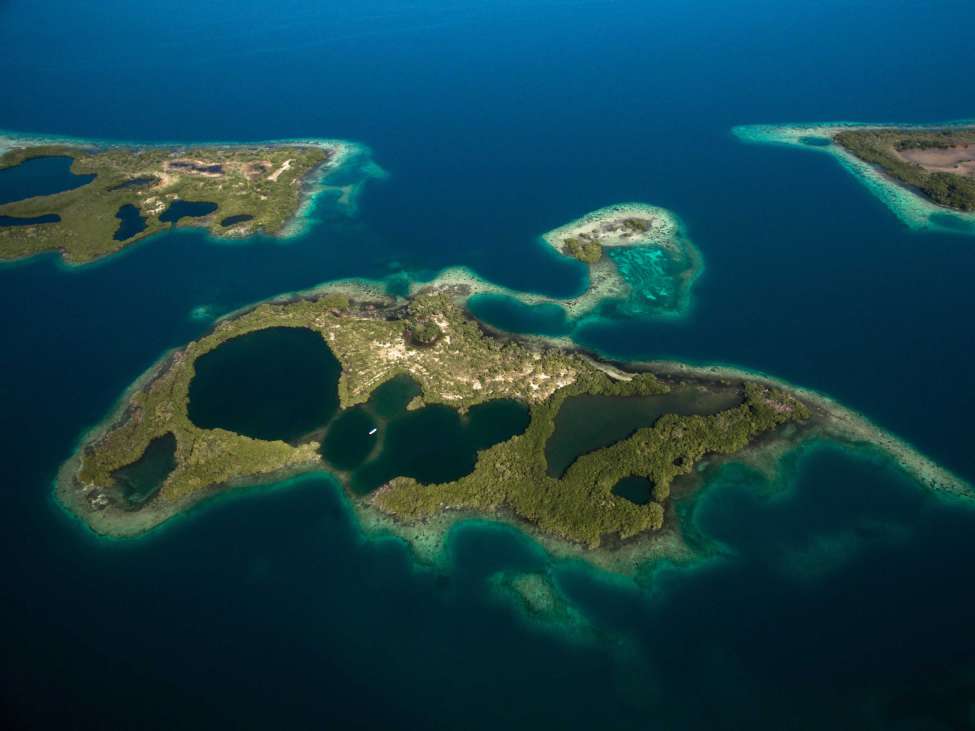 Manatee Caye is an island in Belize. It is located around 12,3km east of Belize's coast, and sits directly in protected waters between other islands and reefs in Belize Barrier Reef. Its size is 14,7 acres (5,9 ha) and its maximum length/width is around 640mX295m. Manatee Caye has a very specific shape with many bays and big inner lagoons that offer seclusion and protection on the water. One of its lagoons is 180mX160m. There are a lot of vegetation on the island including mangroves and various trees and grass. Sitting in Belize Barrier Reef and having its own lagoons,  there are plenty of fish and other marine life around. Some parts of the island were filled with white sand years ago. Manatee Caye got sold perhaps, I do not know its current status.
Here is Manatee Caye Gallery (21 images)
---
Lagoon Caye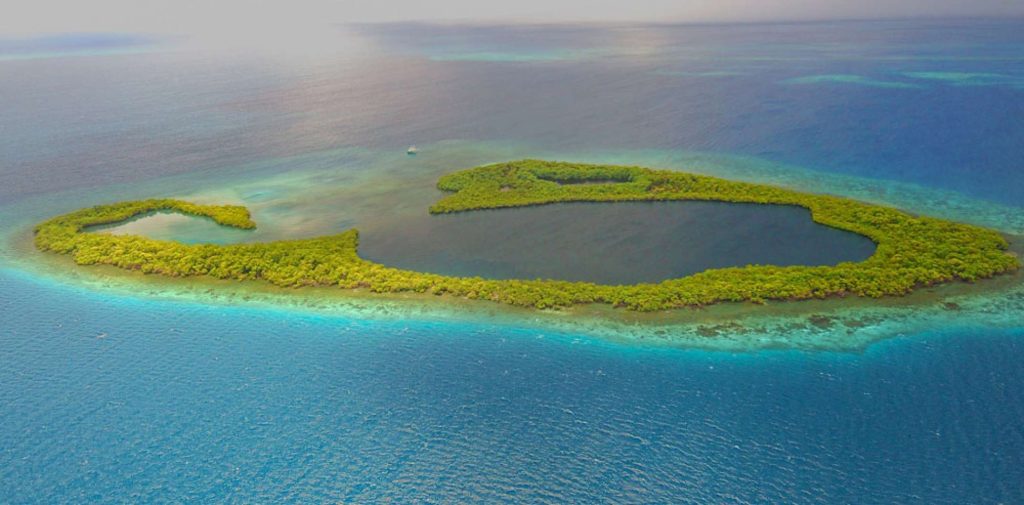 Lagoon Caye is an island in Belize. Its size is 13,6 acres (5,5ha) and its maximum length/width is around 850mX420m. The island is located around 11km east of Belize's shore. The name got most likely due to its large lagoon inside the island. Technically almost the whole island surrounds this lagoon. Lagoon's size is about 430X245m, and that lagoon is deep around 10m, and its entrance is deep around 2m suitable for various types of vessels to enter there. And of course they would be protected in the lagoon. Lagoon Caye has also another bay and a smaller lagoon, so it has plenty of stuff to offer. It has dense vegetation on the island parts, mostly mangroves, trees and grass. And of course, plenty of corals and fish are to be expected around the island. The island is still available for sale perhaps.
Here is Lagoon Caye Gallery (21 images)
---
Little Lagoon Caye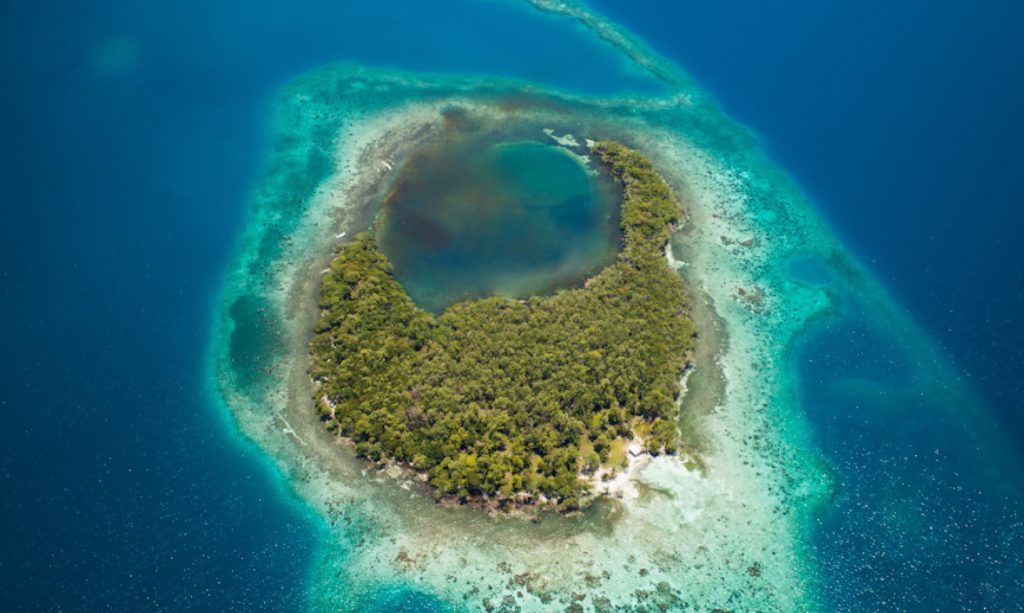 Little Lagoon Caye is the first neighbor of bigger, Lagoon Caye (570m northwest). Its size is 3,65 acres (1,5ha) and its maximum length/width is around 350mX225m.  Just like Lagoon Caye, Little Lagoon Caye also features one big lagoon to the south side with over 10m deep. The island is also overgrown in vegetation and many mangroves on the coastal sides. There is some development, some cottages with white sandy beach on the north side of the island. The island seems sold.
Here is Little Lagoon Caye Gallery (7 pictures)