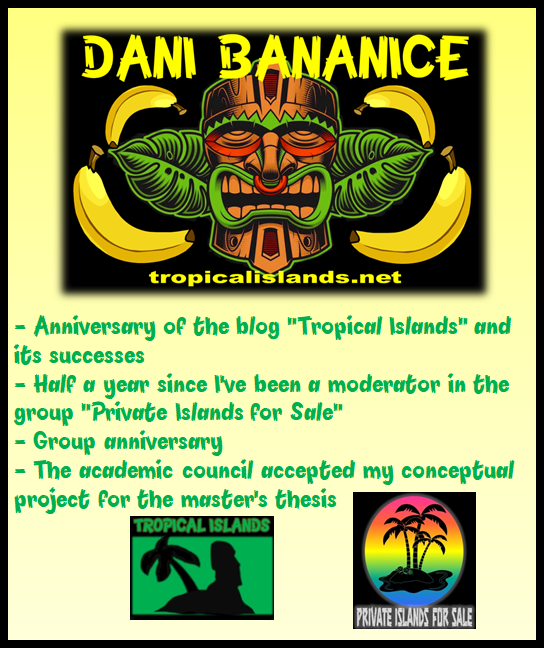 So, we celebrate multiple happenings. Next week we will have increased activity.
Blog officially started in 26. April 2020 (although I wrote and prepared some articles before), and since it is in spring, we celebrate the anniversary in mid-summer, in July. Also, it passed exactly 6 months since how I am a moderator here. Also, our group did not celebrate its anniversary yet. It started in 18. January 2018, being 4 years and a half. And we will attach it to the blog's celebration Dani Bananice, since we cooperate together and to show unity! Blog got over 55 articles appearing on the first page in Google, also when anyone types ,,blog about tropical islands" in Google, our blog will appear the first! Yeah! Also, over 100 people per week visit blog, and from 500-1000 even more monthly. Also, the group ,,Private Islands for Sale" now has 18,8 thousands of people, tons of islands, beachfront and similar assets here, and together, we make a great combination.
The name ,,Dani Bananice" is hard to translate, it will sound odd, but in rough translation it means ,,Banana days" or ,,Days of little banana/candy banana" or something like that. This may not have much sense for you, but it does here. It is a parody on the ,,Dani Banice" traditional custom here nearby (banica means a type of pie) where people promote old traditional food and that pie. And bananica candy is world famous, but it originally started in my country back in 1938, I think, and since it is a very similar name, we are using it to make our little festive each year.
You can expect more activity in the group, more blog posts, links, featured islands perhaps, and other stuff. In reality, we pick a few days for celebration (going to the cinema to watch a tropical-themed movie, tropical coffee bar, and restaurant, etc…) and ALWAYS tropical party here! In the name of blog, and group.
Also, the good news that ,,idea project" or conceptual project got my masterwork is accepted by the scientific council at the university. I will start writing the masterwork soon, as this finishes. My mentor, Dr. Vladimir Momčilović, and I met today to discuss this all. Blogpost about that is here https://tropicalislands.net/the-academic-council-accepted-my-conceptual-project-for-the-masters-thesis/