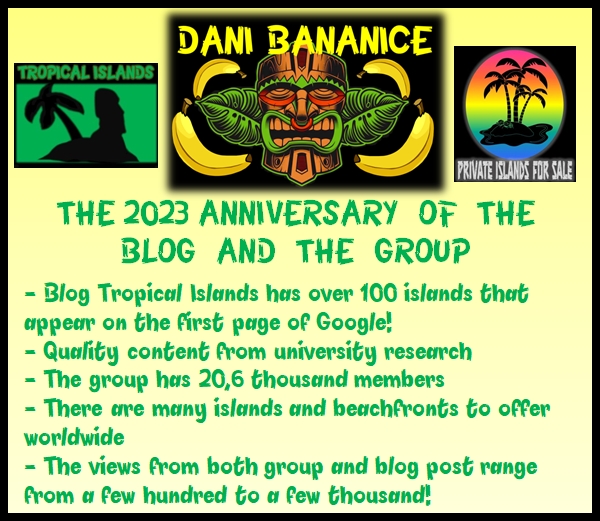 It is time to mention and celebrate the anniversary of our blog. It started in April 2020, but since it is spring, we decide to make anniversaries in mid-summer, mostly in July. And since I am an administrator at a big Facebook group,,Private islands for Sale", we celebrate our anniversary at the same time. More about Dani Bananice meaning in this old post https://tropicalislands.net/upcoming-dani-bananice-celebration/
The blog has over 370 articles so far (including old galleries), and is worth mentioning that recently we hit 100 numbers! Yeah, as of this moment over 100 islands we wrote about appear on the first page of Google! The blog began with the research I did on the university. The list of those articles is here https://tropicalislands.net/list-of-our-articles-that-appear-on-the-first-page-of-google-for-now/ and that is a big success, meaning that our blog is one of the key players about information for tropical islands.
The group currently has 20,6 thousand members including professional real estate agents, scientists, owners of islands, and potential buyers. There are many islands available for sale there ranging worldwide (Caribbean, Indian Ocean, South Pacific, Atlantic…) from a few thousand to 40 million$! The most exclusive is actually Big Darby Island in the Bahamas sold by group creator, Alfredo F Ayme https://tropicalislands.net/big-darby-island/
Tomorrow, we will have a tropical-themed party in my Tiki Bar with our friends to celebrate anniversary of the blog and group! Happy anniversary to all! We will continue our work!