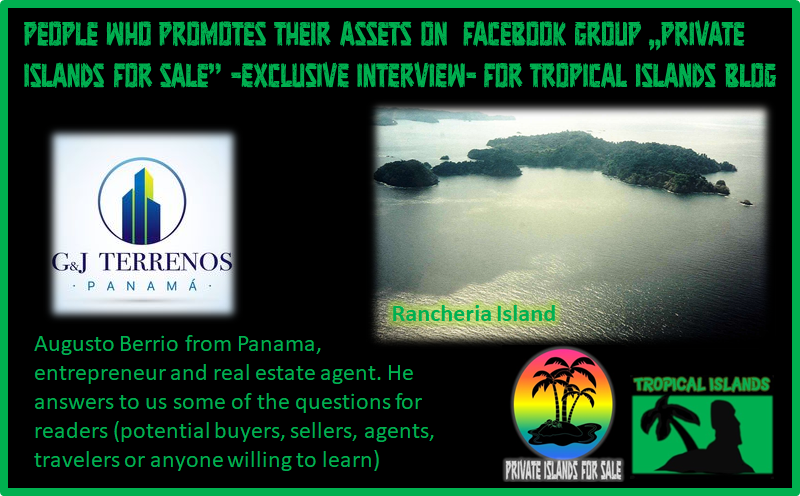 Greetings! I just did a small exclusive interview with one real estate agent (who is promoting one of the islands in group ,,Private Islands on Sale", where I am a moderator), Mr. Augusto Berrio, from Panama. These interviews are part of ,,double-promotion" feature for our members, and also for the rest of us to learn more about islands, regions and environmental issues. I got this idea, and Mr. Alfero F Ayme (group's creator) approved it.
NOTE: Those are all generic questions for various types of promoters (owners, sellers, agents, renters, realtors…), and various types of representation (renting, selling, sharing…) for various assets (islands, beachfronts, plots…). Have in mind that you can mention multiple assets as well.
QUESTION1: Can you tell us something about yourself and your relation to the asset you are representing?
ANSWER1: My best friend and I founded this company, we are 2 enterprising people who want to get ahead in the real estate world, we know that it is not easy, but it is not impossible either. We are working very hard to bring investors to Panama. It is a country with many benefits and we want investors to know it.
QUESTION2: What is an advantage (pros, positive points) of your asset and the region where it is located?
ANSWER2: Panama is a country with an impressive fauna. We also have the Atlantic and Pacific oceans which you can visit on the same day. The property purchase procedures are fast and we work with the dollar. Panamanians are very happy and respectful people. Celebrities like to invest in Panama since it is not common to see paparazzi behind celebrities and they can be calmer.
QUESTION3: Can you tell us your opinion or prediction about the future of your asset and the future of the island market overall for this year or further?
ANSWER3: The market for buying and selling islands is very slow, but little by little more people are seen investing in this type of business. In Panama we have many islands since we are surrounded by sea, but we need more investors to know about our wide variety of islands in which they can invest, as well as the large amount of land facing the sea.
QUESTION4: What is your opinion about ,,Private Islands for Sale" facebook group and ,,Tropical Islands" blog so far?
ANSWER4: The group Private Islands for Sale and the Tropical Islands blog, is a great help for sellers and buyers of islands, since it simplifies the search for the seller or buyer. Information is handled directly and this greatly helps the parties to close a sale or purchase. I congratulate you for such a good idea.
QUESTION5: And last, can you tell us your opinions about climate changes on environmental impacts globally or in your region of interest?
ANSWER5: Climate change is something we should pay close attention to. In our case, Panama is a very small country and we have a large amount of virgin forest. Each person has to do their part so that we have a better planet, we must take care of the environment.
Thats it for now! Soon, more exclusive interviews are coming! Current Augusto's listing (awesome Rancheria Island) can be found on our group here https://www.facebook.com/groups/PrivateIslandsforSale/posts/1352811415141688/ or contact the agent directly (facebook url https://www.facebook.com/augusto.berrio.161 )!