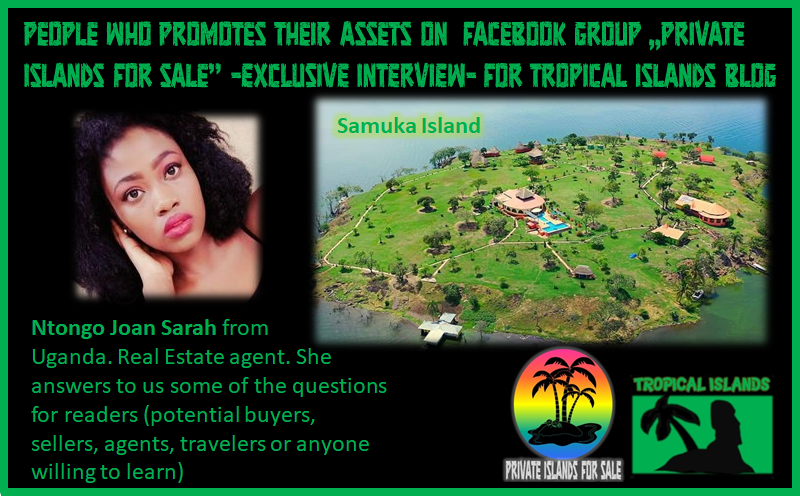 Hello people! This lady from Uganda, Ntongo Joan Sarah just answered those questions for the interview. Although she is not that active much in the group in the meaning of communication with others or posting, she is regularly there talking to me about islands and other related stuff daily. She reads anything new and likes posts in our group and this blog, and became a silent but valuable member. She sells a private island in Lake Victoria in Uganda, Samuka Island. African style!
NOTE: Those are all generic questions for various types of promoters (owners, sellers, agents, renters, realtors…), and various types of representation (renting, selling, sharing…) for various assets (islands, beachfronts, plots…). Have in mind that you can mention multiple assets as well.
QUESTION1: Can you tell us something about yourself and your relation to the asset you are representing?
ANSWER1: I am an African youth who has picked interest in this path of realty. The Island belongs to a friend who is retiring from business. And yeah, am the agent on this.
QUESTION2: What is an advantage (pros, positive points) of your asset and the region where it is located?
ANSWER2: The Island is located in Uganda, Africa and am sure you know this part of Africa has the best weather conditions since Uganda as a country is crossed by the equator. Uganda is a peaceful, stable and welcoming country which will let the new owner stay in peace. Laws are very simple and ownership transfer documents are ready in just a months time. Citizenship is also easy to attain which will make the new owner live freely on the Island and in the country aswell. You're allowed to develop the Island to your taste aswell. The Island is located a few minutes away from huge water falls and the source of River Nile (longest river) which makes it good for tourism Uganda is an English speaking country aswell, that'll ease communication.
QUESTION3: Can you tell us your opinion or prediction about the future of your asset and the future of the island market overall for this year or further?
ANSWER3: As for the Island if it's taken for tourism or business purposes, the new owner will have hit a jackpot due to the continuous rising in the tourism industry of Uganda. The investor can turn it into a heaven on earth due to it's location and landscape. If one takes it as a personal retreat, they'll get the best of it aswell. As for the Island market in general, this is sowing time of the season. By the end of this year or a little further, the value of Islands will have climaxed so if one is thinking of owning an Island, buying time is now!
QUESTION4: What is your opinion about ,,Private Islands for Sale" facebook group and ,,Tropical Islands" blog so far?
ANSWER4: Wow! "Private Islands for sale", this group is a one stop platform for all. Buyers, sellers, window shoppers, realtors etc. You can find anything on the platform and the administration of the group is the best I've seen. They can walk you through the system and give you countless help whenever you need it. The blogs, oh God! The most efficient source of information there is. Whenever I want to educate myself about islands, Tropical Islands blog is my go to.
QUESTION5: And last, can you tell us your opinions about climate changes on environmental impacts globally or in your region of interest?
ANSWER5: For the climate changes, I don't have so much to say since this has been a song we've all listened to all over the world. "Conserve it because it's your only home" In my region, we've taken that as a way to live. Well I guess that's just us. Africa and nature go hand in hand.
This is it, I hope you find those answers useful. I had the pleasure of talking to her every day. Here are some links:
Ntongo Joan Sarah facebook profile: https://www.facebook.com/profile.php?id=100008601498886
Samuka Island facebook group post: https://www.facebook.com/groups/PrivateIslandsforSale/posts/1377843925971770/
Private Islands for Sale facebook group (it is a closed group): https://www.facebook.com/groups/PrivateIslandsforSale