If you think that these ,,Featured Islands Special Edition for 8. march" https://tropicalislands.net/private-islands-for-sale-5-featured-islands-8-march-2022-special-edition/ is all for today, you are wrong. We still have one more surprise for ladies involved with group ,,Private Islands for Sale" and ,,Tropical Islands" blog.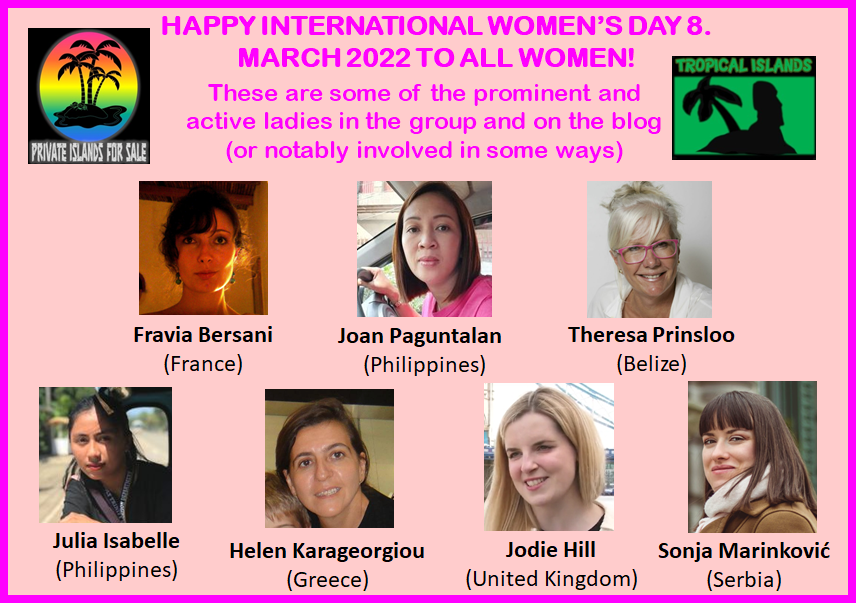 Since the group is large (19,2 thousand members so far), there are many female agents/sellers, but I handpicked those who were somehow prominent more (especially from this year so far):
Flavia Bersani – this lady promotes her Zopango Island (Nicaragua) in our group, and is very active. She is a professional real estate agent from France, she lived for years in Australia, lived and worked for years in Nicaragua. World's woman! Unfortunately, she could not do an interview here yet (but her father did) due to obligations, but she still intends. Here is blogpost about her island https://tropicalislands.net/zopango-island/ and her father's interview https://tropicalislands.net/mauro-bersani-interview/
Joan Paguntalan – is a real estate agent from the Philippines. She was active a lot in the group and is still as a matter of fact. She promotes tons of stuff in our group (a few islands, beachfronts…). She is very busy now, but you can expect an interview soon maybe.
Theresa Prinsloo – is a professional real estate agent from Belize. She works for ,,REMAX 1st Choice Belize".  Theresa is also active and communicative in the group, she also offers a few assets for now (she is also very busy but plans to add few islands soon).
Julia Isabelle – this girl has an exclusive island here in our group and blog. Her uncle sells it, and Isabelle represents this island, South Malaibu Island. We have blogpost about it here https://tropicalislands.net/south-malaibu-island/
Helen Karageorgiou – this lady from Greece promotes her Skiathos Island property with a villa. Yes, as a world-class group, there is property from Greece as well. Helen is active in our group.
Jodie Hill – Jodie is not directly involved with the group or blog, but she is one of few key people leading the famous project ,,Let's buy An island" and their micronation ,,Principality of Islandia". And we are proud to have them promoting their island Coffe Caye in our group and blog as well (I am regularly in talk with Gareth from there). Blogpost about Coffee Caye (which is exclusive and first promoted with us) is here https://tropicalislands.net/coffee-caye/ and blogpost about them is here https://tropicalislands.net/principality-of-islandia-micronation-lets-buy-an-island-project/
Sonja Marinković – What would I do without Sonja? She is my fiance and we run together this blog. While I am involved with almost everything here on the blog, and do all myself, she still pays host and is in charge of technical stuff here (works with plugins and other internal stuff as this was the part of one of her jobs). She is also SEO advisor (she worked for many companies as a professional SEO analyst, and is now a freelancer) and my moral supporter!