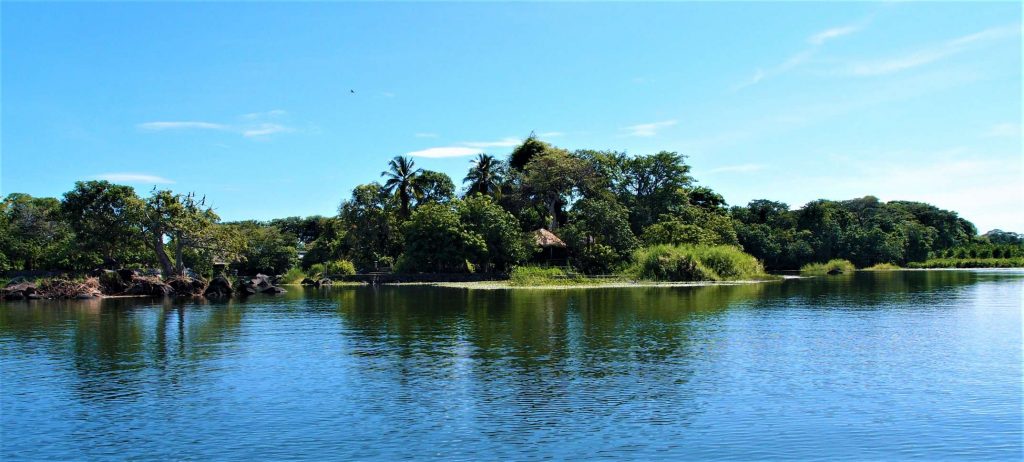 Zopango Island is small islet in Nucaragua. It is located in famous Lake Nicaragua. Yes, while we prefer (as majority of people) sea islands, I could not resist this one. Lake Nicaragua is the biggest lake in Central America (long over 160kms), and has numerous islands of various sizes, but small ones mostly. And it is in the middle of Central America, literally in the middle of heavy jungles, making those islands contain part of the jungle as well.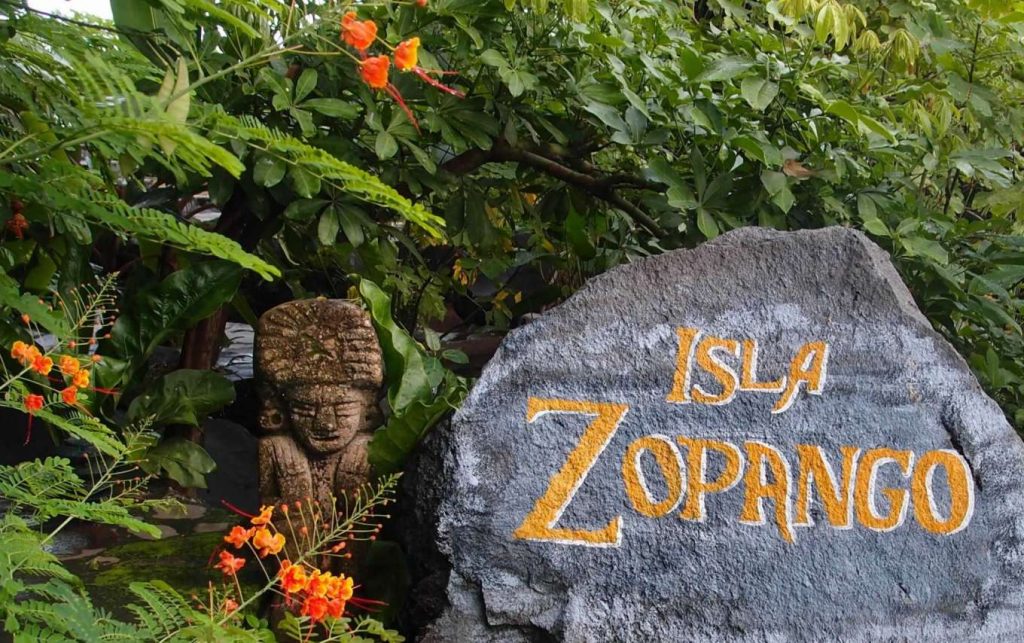 Zopango Island is a small islet. Its surface area is just 1.98 acres (8012 m2), its max length/width is around 150mX70M. Zopango is actually a mini archipelago since it has two even smaller islets included with it. What you will notice there is incredibly lush vegetation, a mini jungle with various types of vegetation. As a tropical island, it features coconut palms and bananas and much more. There, everything is very well blended with nature.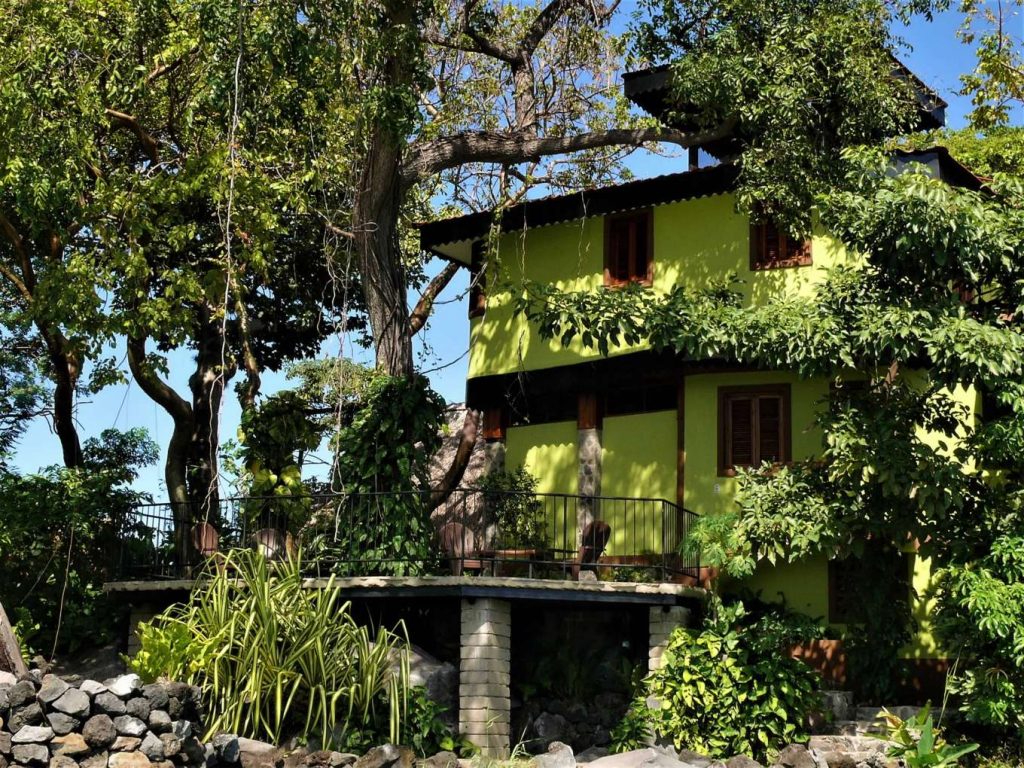 The island is awarded with Excellence Award. It got a rating 9,8/10 on booking.com. That island is being rented out constantly for private experience in the middle of the jungle. Now it is on sale. It has everything needed there. There are some infrastructure on the island, and it can currently take ten guests (eight adults and two kids) in the main house plus two more adults in the smaller house. Zopango is a self-sufficient island for energy and water. It has 12 solar panels and water purification.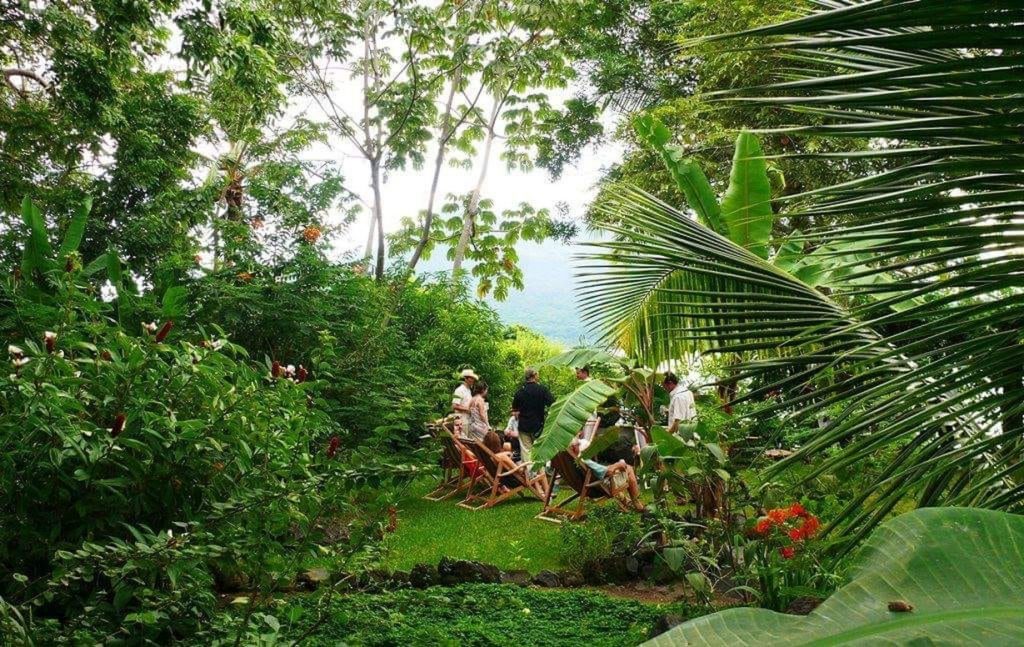 Zopango Island has 4 docks for boats, WI-Fi, and actually is solid with technology. There is also a nice beach on the island for beach-type enjoyment. Zopango is being promoted in many places already, and received many guests so far for various and even wedding events. Their guests vary (families, birdwatchers, writers, yoga practices, businessmen, families etc…). The islet is very close to the famous Granada town. 15 min boat ride to all shops, services & restaurants.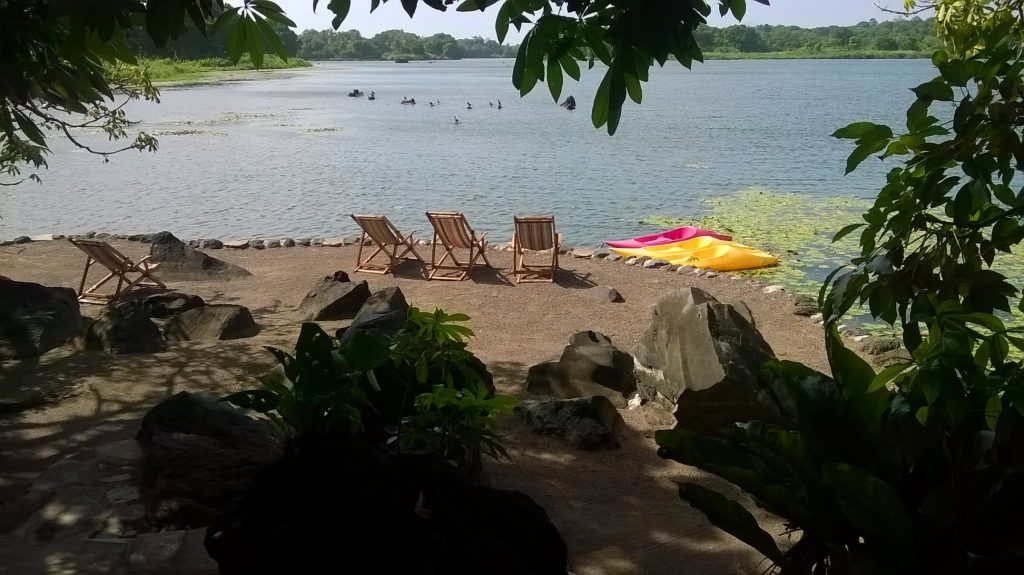 Its only ,,drawback or disadvantage" is that it is a lake island, not a sea one, as those are mostly preferred. Also, as result, there are no corals nearby. This island is ,,locked" in the giant lake. However, it has some advantages over seawater islands. One of them is that island is surrounded by freshwater, which means a lot! Not just for people, but for nature as well. Low sea islands tend to have salty soil or sand, and only limited vegetation can grow there. Here, in the middle of Central American lake, there is very rich ground and soil, so you can grow a wide variety of vegetation without any ,,workaround" as you are forced on sea islets. Also, the lake is a bit calmer than the sea during or after storms. That lake is warm, similar to sea water.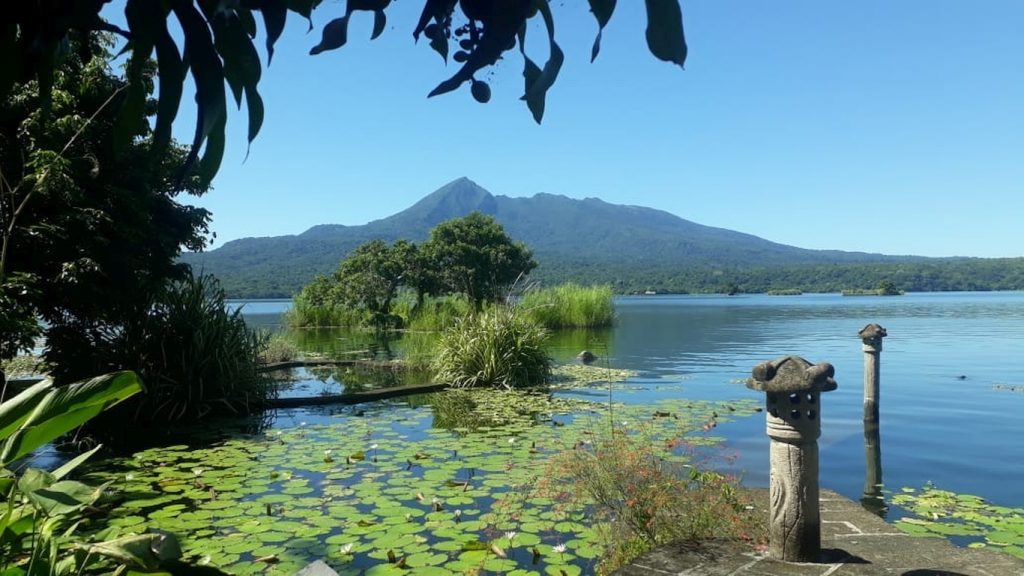 You can sail with its own boat. And fish. So, it is also good for water activities. And the islet is also very close to land, about 60 meters! Zopango island, unlike other sea islands, provides a different type of adventure and enjoyment. Zopango is for sale, contact an agent or Flavia Bersani (she is one of the current owners, and I had the honor to talk with her), as I am writing here from a commentary and an educational point of view.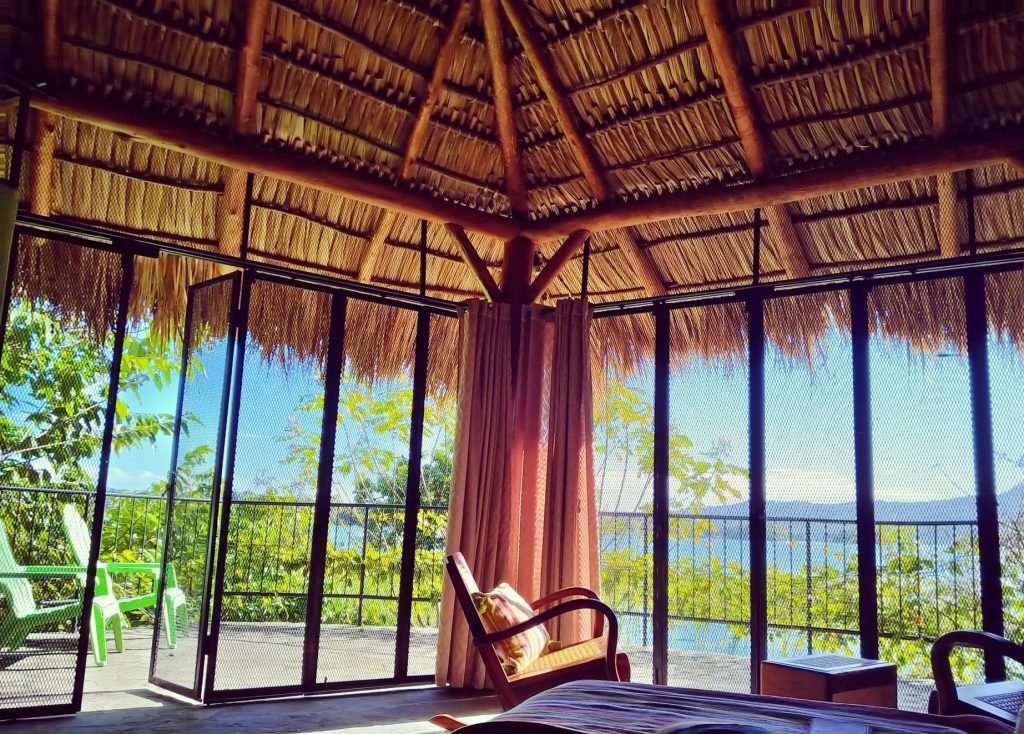 1.POST UPDATE: 11. February 2022
I had the honor to talk with Flavia Bersani a few times for now. Last night we talked a lot. She gave me some of the additional information regarding Zopango Island. Some are even exclusively here for this blog. Flavia is a real estate agent. She lived for years in Australia, Nicaragua, and France (her family is French), so she knows English ,Spanish and French languages. And her father, Mauro Bersani is the man behind all of this! He carefully built this island to blend with nature!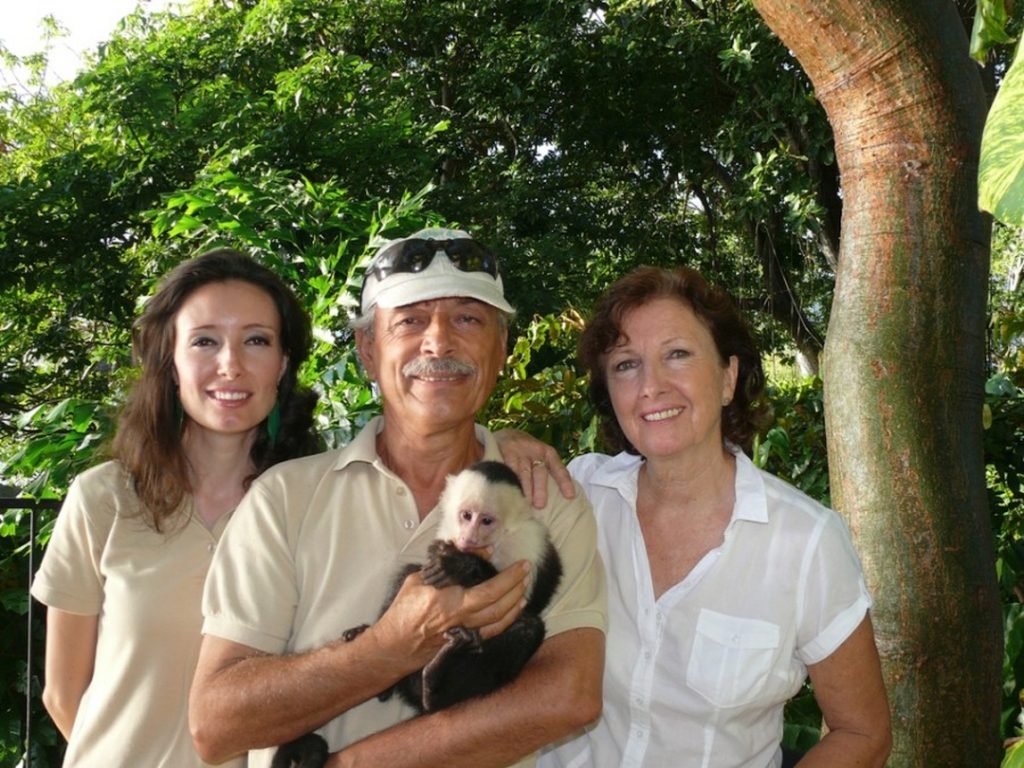 Bersani family had the vision to make this island literally to be self-sufficient. Its nature is preserved and enhanced, and the island is 100% eco-friendly. They establish solar panels installations because they did not want to have power lines or electric plant noises. Their professional filtration process makes good drinkable water. Their beach area is the largest of all surrounding islets. They put those few buildings tactically to be well hidden behind trees.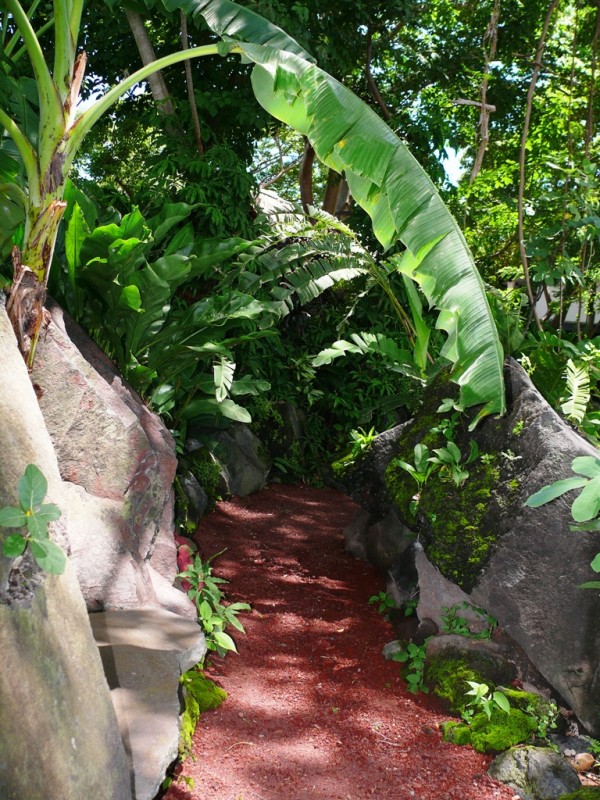 Even their boats are imported from France, and are the only one of this type available in the whole lake. Those boats are electric as well, so they do not produce noise (to disturb both environment and guests while riding or watching birds), they do not have an oil leak or release smoke. It is good for a slow and silent ride, and is ecological. Also, tourist boats and cruises were not allowed at Zopango, only for their guests and owners, meaning that you will see only your boats there. The main boat and kayaks are included in the sale with all equipment.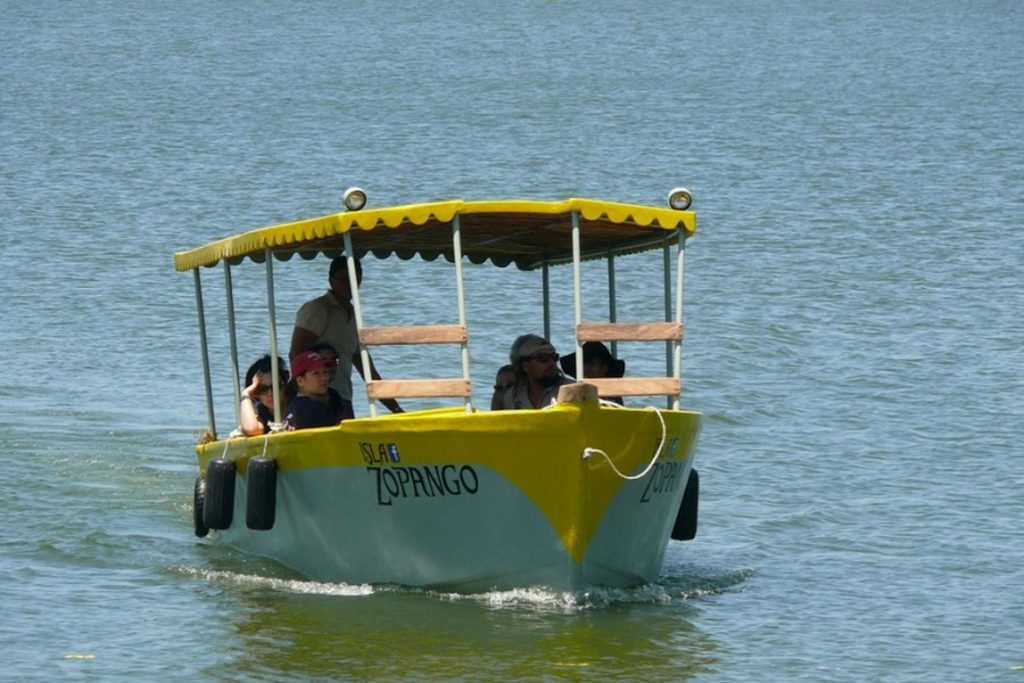 Bersani Family created Nicaragua Dulce Ecotourism (with an established site) to operate some tours from Zopango island or events, ad island hos various events for various needs. It operates daily, (with high standard equipment), in the Asese Bay, Granada, and this region. Nicaragua Dulce is a member of The International Ecotourism Society, which supports conservation, communities, and sustainable travel. It got the Luxury Travel Guide award for 2017. It could be included in sale as well.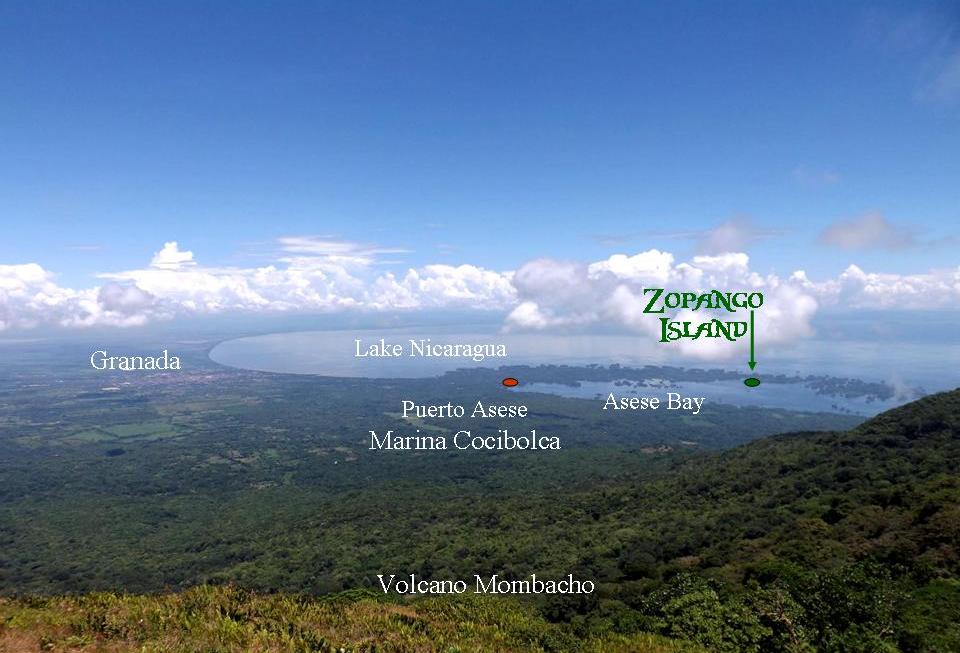 What I got exclusive information is that they help turtles hatching during the season on some of their little beaches at Zopango Island, making sure the babies go to the water safely. They did not make much publicity out of it. There are actually freshwater turtles in this lake, and is easy to observe sometimes as they sunbathe on the rocks. Flavia even sent me those images of turtles, I will show you both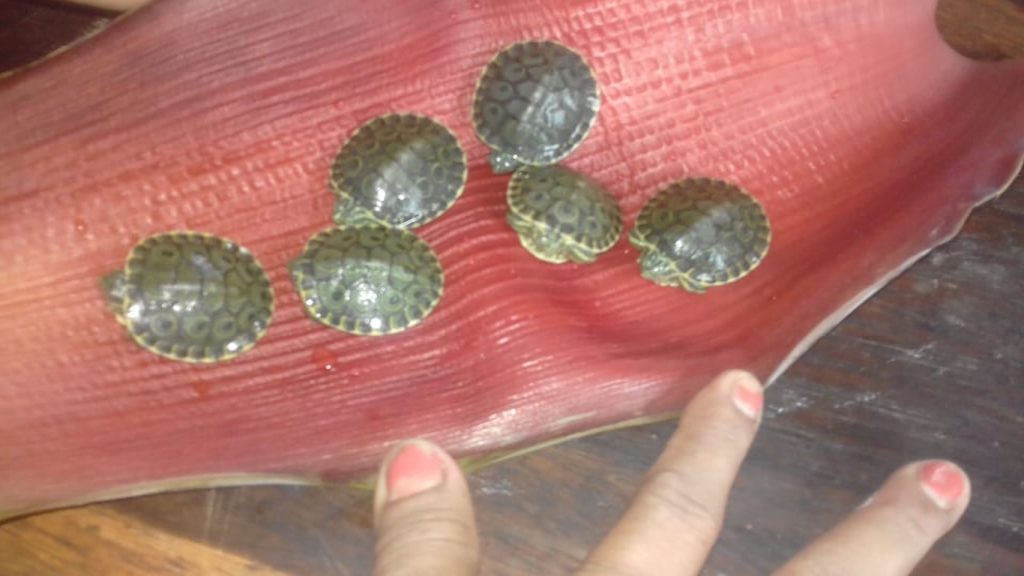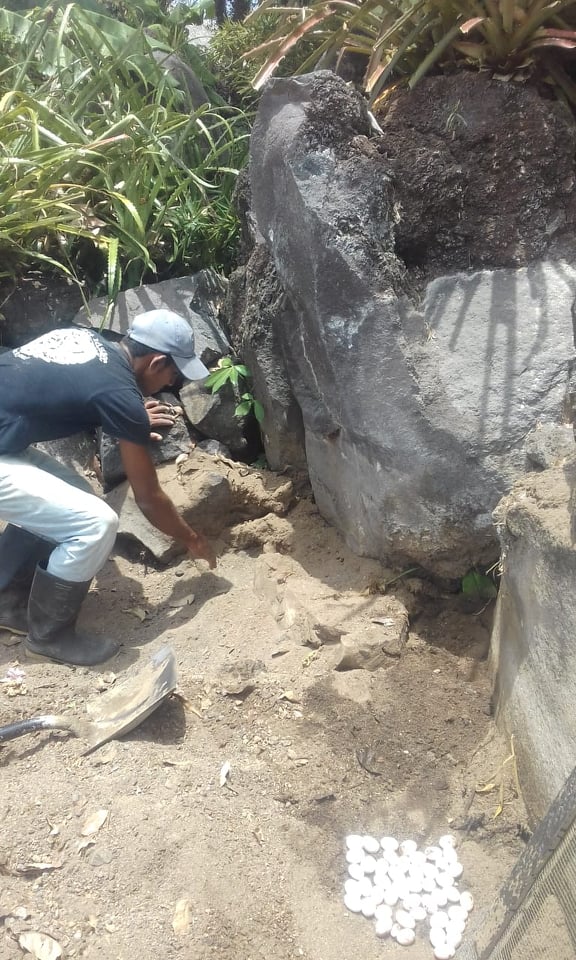 They also grow various fruits there such as coconuts, bananas, mango. A wide range of flowers grows there including orchids. Also, this islet is a neighbor of a luxury eco-lodge called Jicaro Island, (about 100 meters away)! And they received guests such as Michael Douglas & Catherine Zeta Jones. No smog, no pollution, just fresh nature in that region. And according to Flavia, Zopango Island (which I agree) is not expensive considering the islet comes with all its equipment, facilities, and power plant with solar panels and water treatment into drinkable. But for that you have to contact her. I talk to her on Facebook via group ,,Private Islands for Sale", where I am a moderator.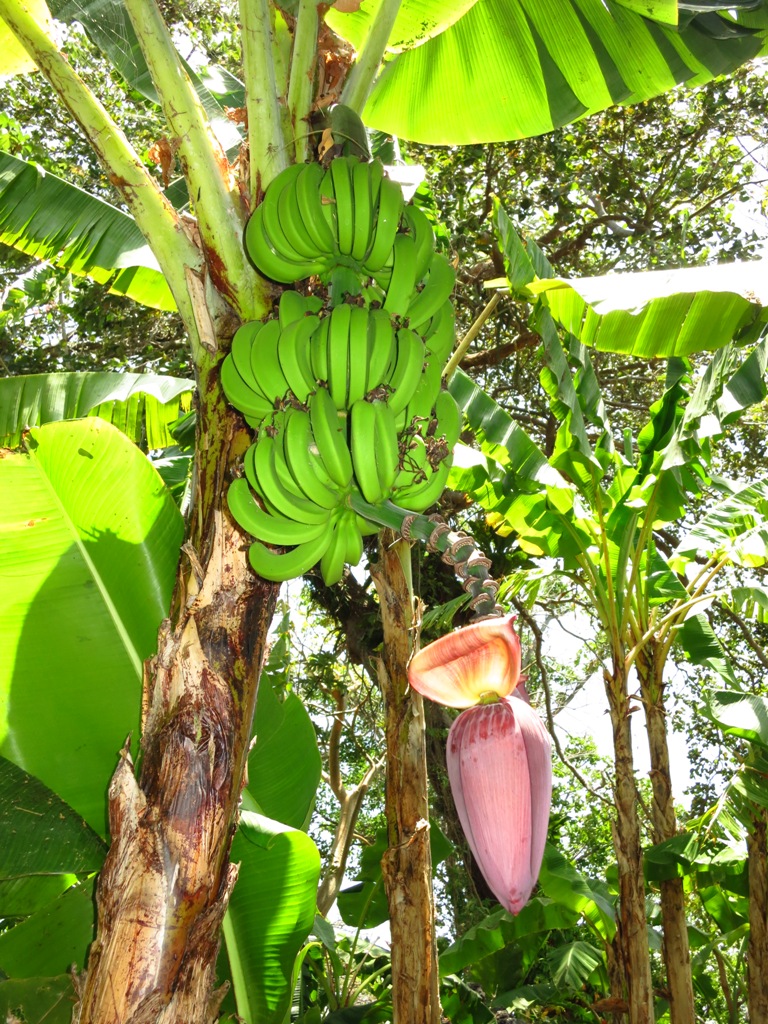 Zopango Island also received some of the VIP guests as well, such as various ambassadors, mayors, photographers from famous magazines etc… And since it got awarded, Zopango Island established a nice reputation! it is also woth of mentioning that, unlike sea islands and coasts, this region does not suffer from extreme weather conditions. Sometimes just little bigger waves may occur, in the lake further away from the islet, but around Zopango is always calm and swimmable. They do not suffer any climate problems there, neither monsoon…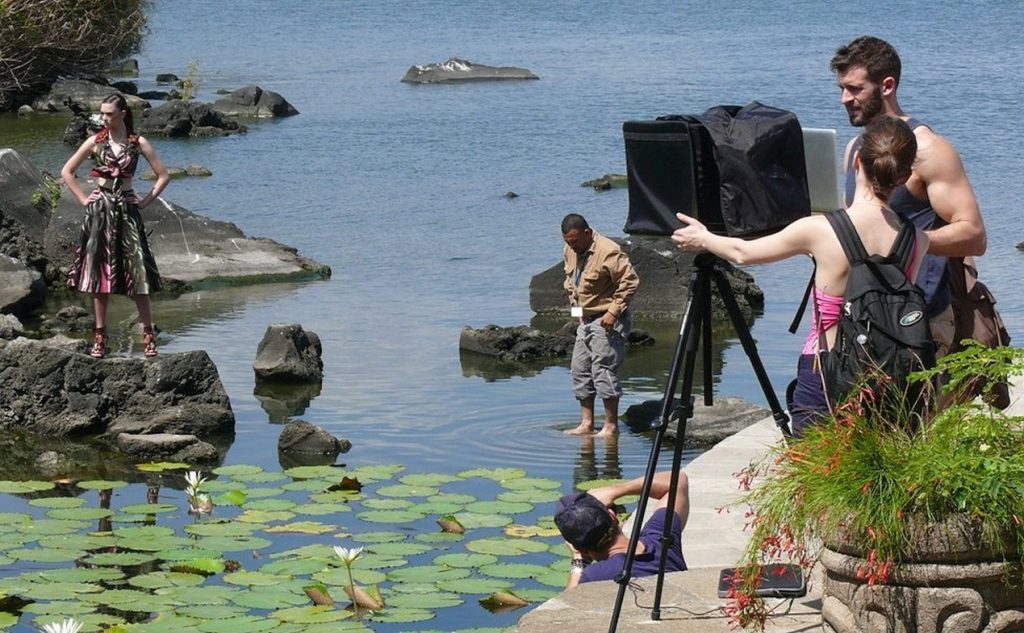 2. POST UPDATE: 25. February 2022
This night I had the honor to talk with Mauro Bersani (I talked only with Flavia Bersani before) who built all of this! He did a small interview with standard questions here https://tropicalislands.net/mauro-bersani-interview/ while another part of the conversation with specific information will go here in this post update. Mr. Mauro provided information that they were building this constantly for 15 years since they are here. Since it is an organic island, he constantly upgraded it. They also helped the nearby school, and all stuff built on the island is used by local community workers.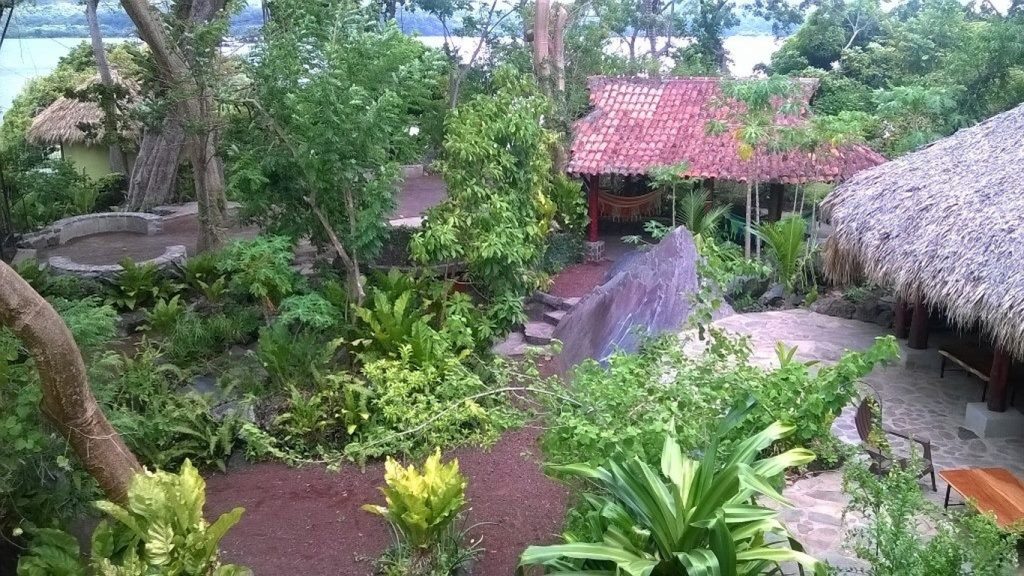 ,,We have done all during 15 years, and with the help of the community. Every thing done by hands to employ the maximum of people. We help a small school located in a close tiny island. It's an Organic Island. We are looking for an other project to protect and reproduce endangered wilds birds and mamals." – Mr. Mauro Besrani said. Well, the Bersani family put their effort and time (part of their life as well) in this island and its related projects.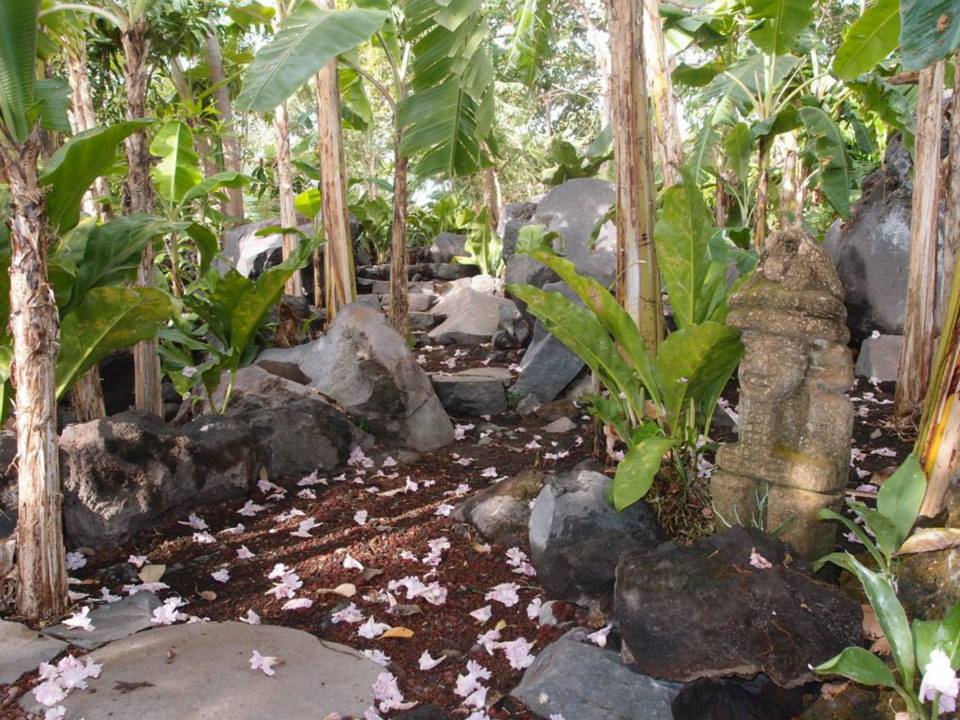 Also, have in mind that Zopango is not a flat island. It has some height and stairs. Also, I got the impression that this island will be awesome for Tiki Bar, and tropical/tiki parties! Whatever in continental temperate cities are trying to achieve in tropical/tiki bars (with tropical vegetation), this island has all naturally! You just need to put on some tropical lights, torches, some Tiki totems, add tiki mugs for drinks, speakers and the party can begin!
I want to add that Bersani liked our post and efforts, and Flavia called me to visit the island for free (before it gets sold)! I am so grateful, and my fiance Sonja and I would gladly like to visit this incredible place, but unfortunately, this is hardly possible.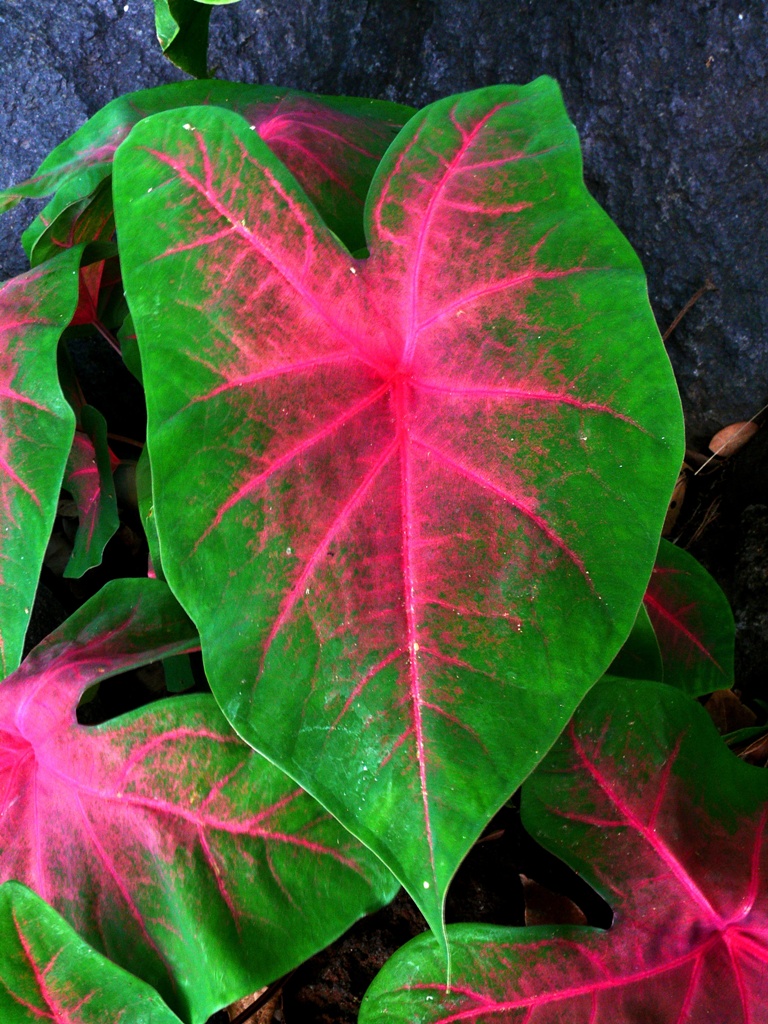 I also updated the album, added much more images. Now, you will get a few youtube videos of the island, and a link to our Zopango Island Gallery (164 pictures) at the end of the post

>>HERE IS OUR LARGE ZOPANGO ISLAND GALLERY (164 IMAGES) https://tropicalislands.net/zopango-island-gallery/ <<