The Duke Group Archipelago is a group of islands of three large islands and a pair of tiny ones that are in and around them. Marble Island (2500 acres / 1011 ha), Hunter Island (300 acres / 121 ha) and Tynemouth Island (500 acres / 202 ha). The islands are adorned by the fact that they are incredibly diverse, they are different for each other. Some of them look like ranches in America, there is even a rocky island with pines like in Canada, there are meadows, even deer and cows on the beaches! The iron island is reddish in color. And yet they are in the tropics. Specific forms make multiple beaches and lagoons, and lakes, hills and plains, with a variety of vegetation. The main island, Marble has infrastructure, a runway and some coconut palms.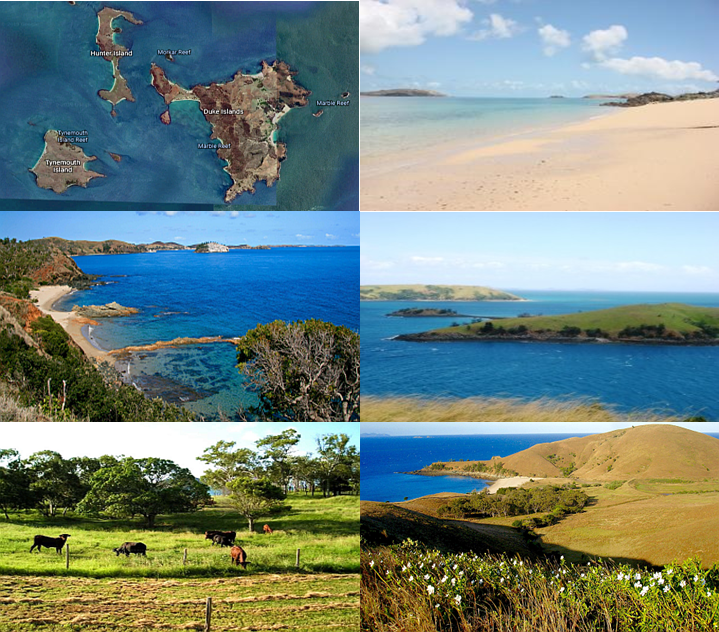 (POST UPDATE: 24 JULY 2022)
The diversity of the islands combined with their big size makes it very interesting and has plenty of things to do. The island chain was bought in 1968 by Brisbane stock broker  Rex Jones and is turned into a cattle ranch. Since then, it become a haven for wealthy entrepreneurs and hunters.
Duke Islands have been for sale for a long time, its status now is unknown, but until recently there was private resort-type activity on Marble Island, it was parallelly on rent as well. Since Marble Island has a small, private beachfront cottage, it was available for holiday rental. It can accommodate a maximum of six people. I am personally impressed by the landscapes, beaches, and nature those combined islands have. One of the best private assets around. Especially being part of the Great Barrier Reef (having its advantages), quality is guaranteed, both on islands and surrounding waters.
>> CHECK OUT OUR HUGE GALLERY FOR DUKE ARCHIPELAGO (OVER 170 PICTURES!) https://tropicalislands.net/the-duke-group-archipelago-gallery/ <<