That's how it all started. From my research, knowledge and gathering of information, it started from here, from Rangiroa. First I learned Motu Matatahi, then the surroundings, Blue Lagoon, Tiputa, Pension Aotera, Motu Teta… So I will explain those places a little (Motu Matatahi and Blue Lagoon will have their own posts).
---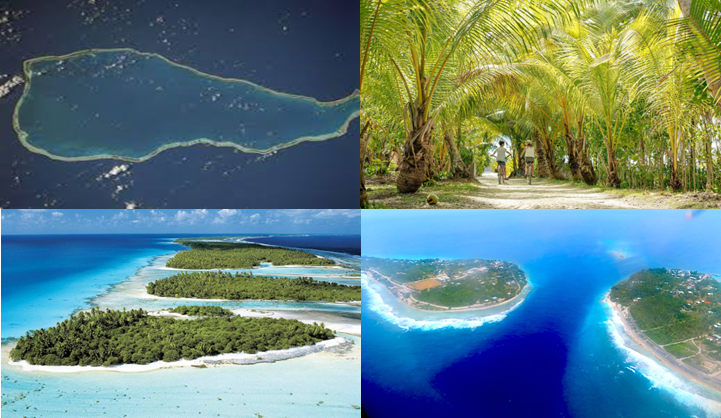 Rangiroa Atoll is the largest atoll in French Polynesia and one of the largest in the world. It is located about 355 km northeast of Tahiti. Its area is 80km2 without a lagoon, and 1446km2 with a lagoon. About 2,500 people live in two villages, Avatoru (the largest) and Tiputi, which are separated by Tiputa and Avatoru by a passage (two deep canals that feed the lagoon). The length / width of the atolls are 80km by 32km. The highest height is 12m. Economic activities are tourism, fishing (this lagoon is large, so there is plenty of water), coconut plantations. But the only thing unique about Rangiroa is that it has a vineyard! After a long analysis, they set up a vineyard near Avatoru, where the grapes grow next to the coconut. Transport is also possible by plane, since Rangiroa has its own airport on Avatoru Island. There's even a road around the airport and Avatoru, so people drive cars there. There are also churches, some shops, resorts. In Avatoru Passage, people often watch dolphins jump out of the water. There is the famous Kia Ora Hotel, which is the only one in Rangiroa to have bungalows across the water.
---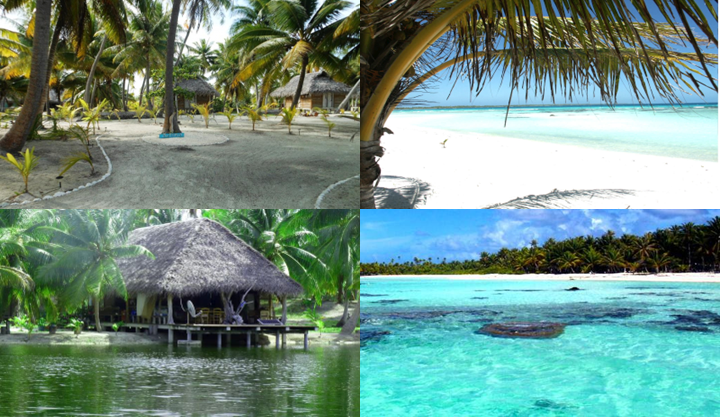 Pension Aotera is a beautiful place in northwestern Rangiroa. Resorts with bungalows or houses are usually called pensions. It is located in a strategic place near a shallow passage between two islands, a lagoon and the ocean, but it has been inactive for some time. It overlooks the lagoon, and even has a pond inside with green water. It has a beautiful white beach, and corals near the beach.
---

Hoa Shallow Pass. Hoa otherwise means a shallow flow of water, like a stream that connects a lagoon and the ocean. This one is half a mile from the airport.
---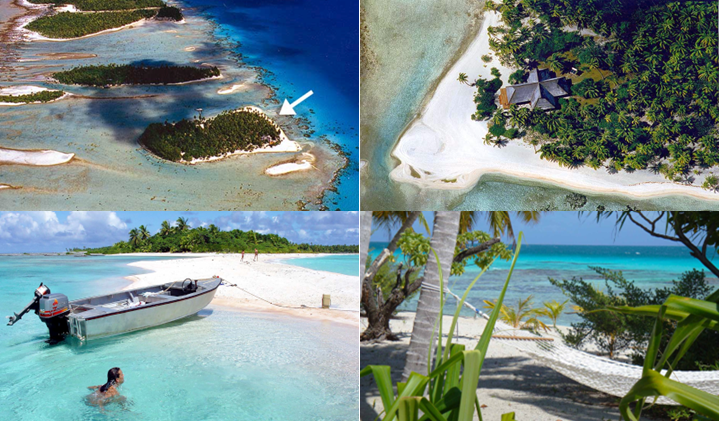 Motu Teta is a famous island in Rangiroa, about 47km southeast of the airport in Tiputa. It is a resort for an individual or a family. The area is 9.5 acres (3.84ha), 270m by 165m. The island is equipped to the maximum for vacation
---

Sables Roses is also a famous place in Rangiroa, located 8.5km east of Motu Teta. The region is known for having pink sand.